Beck Taxi drives a more personal connection
The brand's new campaign in Toronto takes aim at the competition by focusing on the people inside its cabs.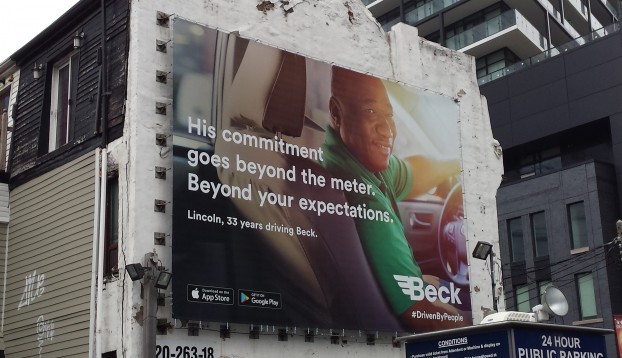 A new campaign by Toronto's Beck Taxi is putting the focus on the people inside its cabs – whether they are in the driver's seat or a passenger – in an effort to stand out from competition, both new and old.
Launching in Toronto last week, out-of-home ads show all the different people that both literally and figuratively drive the company in the city, be it the passengers inside the cabs, the people running the company in the front office or by spotlighting one of its drivers.
Kristine Hubbard, operations manager at Beck Taxi, says the idea behind the campaign is to humanize drivers, and show that they are more than just an extension of the vehicle by focusing on their own stories and connections to the communities they serve in Toronto.
"It's going to be a lot of telling stories and introducing ideas about what Toronto and the people who live here mean to us as a company," she says. "We want everyone to know how that, for the drivers and everyone who works here, whatever is important to passengers is what is important to us, whether it's a doctor's appointment or going to a wedding or just getting them home safely."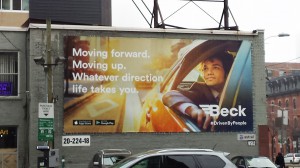 In addition to the OOH ads, the "#DrivenByPeople" campaign will add a TV spot and new social elements this week. Beck worked with Toronto's Community and Haddon Strategy on the campaign.

Several years ago, Beck made its first effort at humanizing its drivers with a "love letter" to Toronto. Hubbard says that campaign didn't really have a name as was more of a general look at the company's connection to the city, but did start the company on the path of drawing a more personal connection between the company, its drivers and the people of Toronto.

One of the goals behind the campaign is not just to help Beck stand out from other taxi companies in Toronto, but from new entrants to the space – namely, ridesharing services like Uber.

"Ridesharing companies are technology companies that use people," Hubbard says. "We are people that use technology. That human element has been the secret to our success over the last 50 years and is still what makes us special even as these new companies come into the city."