McDonald's turns the spotlight on young staff
A new campaign profiles individual crew members who credit the QSR with helping them grow.
In advance of its national hiring day push, McDonald's Canada has launched a national, bilingual campaign that profiles its young staff members.
The work again uses the tagline "We Believe In Canadian Youth," which first appeared on McDonald's TV work in 2015.
The QSR's agency of record, Cossette, developed a series of video profiles of McDonald's team members between the ages of 15 and 24. Each one introduces its subject outside the restaurant – in their bedrooms or at the gym – to illustrate their personality and ambitions. Each subject narrates their video, which eventually reveals their job at McDonald's.
Fourteen employees will be profiled in total. Each profile is available online in shorter (five-second) and longer (30- to 50-second) versions.
Footage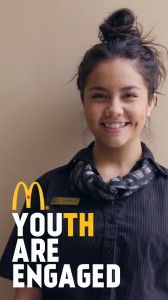 is also collected in a 30-second TV spot cthat anchors the campaign on traditional media. The TV spot uses on-screen text such as "Youth are engaged" and "Youth are the future" to promote its message.
The campaign also stretches to social media, specifically Twitter, Instagram, Facebook and Snapchat, the last of which will receive a branded filter (pictured right).