Check it out: A 'Rolling Snow Report' from Whistler
The execution showed rain-soaked Vancouverites how much snow they'd find just a short drive away.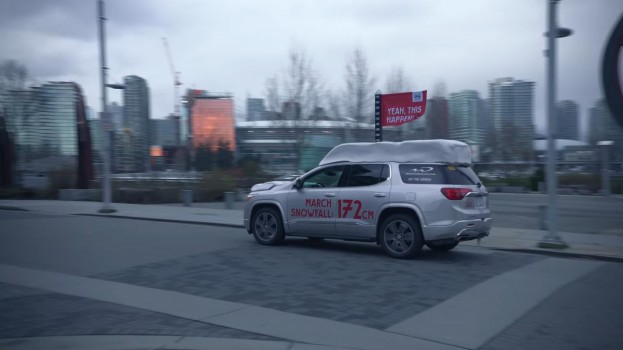 Some of us are probably fine with winter leaving us behind once and for all, but if you're a skier or snowboarder, the frequent fluctuations in temperature this year might have been frustrating if you were itching to hit the slopes.

Whistler Blackcomb is close enough to Vancouver that if it's raining in the city (which happens a lot), it's probably snowing on the mountain.

So, on a rainy day in March, an SUV covered in snow and topped with a measuring stick was sent down from the mountain into Vancouver. The "Rolling Snow Report" spent the day driving around the city, letting residents know just how much snow has fallen so far that month on a mountain that was just a short drive away.

The execution was part of the broader "Get The Goods" campaign that Vancouver agency Good Fortune Collective crafted for the resort for this year's ski and snowboard season. Like any outdoor attraction, Whistler Blackcomb is beholden to weather conditions, so it has been featuring a new video posted online every week showing what conditions at the resort were like and letting potential visitors know there was always something to do on the mountain – regardless of how much the weather decided to cooperate.