How can Canadian car companies deliver on mobile expectations?
New research provides insight into what car shoppers are looking for.
By Adam Luck, Head of Digital Growth and Innovation, IPG Mediabrands
I've had cars on the brain a lot lately. As part of Ansible's (IPG's mobile marketing and technology agency) MDEX global study assessing brand performance and mobile readiness of more than 2,000 brands, we audited 68 Canadian brands, including nine auto brands. Also, I personally just went through the new-car-buying process.
My takeaway is that few automotive brands in Canada offer mobile experiences that meet people's expectations. A recent study by Think with Google revealed that more than one-third of Canadian smartphone owners expect to search or purchase something on their smartphones faster than on their computers.
Google analyzed consumers' expectations for three categories — convenience, helpful solutions, and fast answers — factors automotive marketers need to prioritize to take our game to the next level.
CONVENIENCE
One in three car buyers switch between multiple devices to inform their purchase,1 so providing a convenient mobile experience means talking to the consumer in the way they choose to talk to you.
When I was researching new cars, the best mobile experiences had the same information as the desktop sites, but were easy to use on a small screen. To research and even build out custom cars, I was eager for robust mobile websites or apps. I found a few auto brands that delivered — and a ton of opportunity for the brands that don't have great experiences on mobile yet.
Advanced Filters
When I started searching, I didn't know exactly what make and model I wanted, but I knew a few basics. I can't drive stick, so I wanted to filter out manual transmissions; I also knew I wanted a car with all-wheel drive under a certain price. The brands that had advanced filtering on mobile really stood out because I could easily find the exact vehicle that met my criteria.
Notifications
After I did my initial research (I was interested in Certified Pre-Owned), I knew the mileage, price range, and features I wanted. The trouble was, there weren't any cars available that had all these things. I would have loved the option to set this specific criteria and then receive a notification (email, SMS, or push notification) once a vehicle matching my criteria entered the system — AutoTrader does a great job of this
Another option would be to get notified if a car with similar features became available. Any given brand has an average of a one in four chance of being chosen for the actual purchase, out of all brands being considered.2 Car buyers are open, and convenient solutions that get them what they need can be just the thing for brands to win them over. 
HELPFUL SOLUTIONS
Canadians are used to getting exactly what they need on mobile — and now 75% of people will switch from the site or app they're on if it's not easy to find what they're looking for.3 That means car brands need to anticipate needs.

Here's one way I think can brands can be helpful on mobile:
Matches Near Me
Two-thirds of consumers expect to see online what stores nearby have the item they want in stock.4 How does this translate to the automotive industry? Well, once a consumer has completed building and pricing their ideal vehicle — why not show them a list of nearby vehicles that closely match their own criteria. Perhaps even indicating the number of weeks for the exact vehicle they want to be custom built and delivered.
FAST ANSWERS
Having a fast mobile site is crucial—but it's not the only consideration when it comes to speed. Sixty-seven percent of Canadians who switched to another site or app did so because it took too many steps to purchase or get their desired information.1 Brands need to find ways to reduce steps on mobile.
Innovative Ways to Communicate
Brands are starting to use things like chatbots to respond to consumer questions. Our US team recently developed a chatbot for Kia designed to instantly answer consumer questions about the launch of their newest vehicle, the Kia Niro.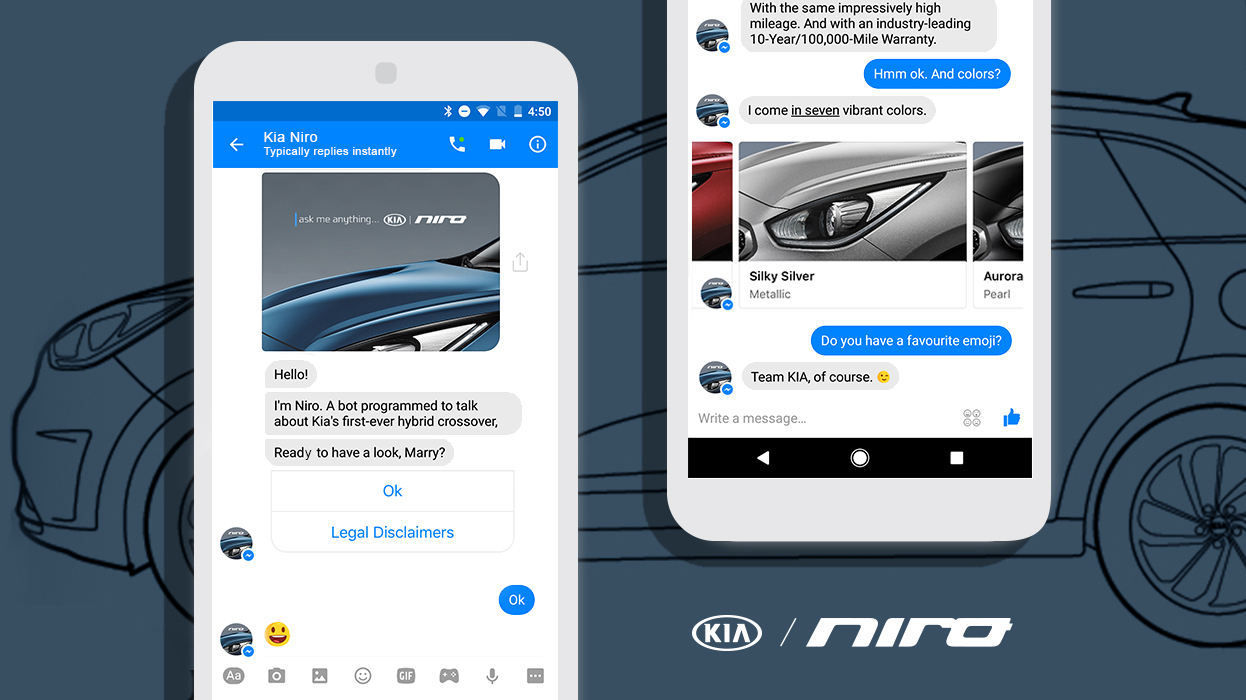 CANADA'S MOBILE FUTURE
This is an exciting time for brands to fully embrace the power of mobile and meet the demands of car-buying consumers. Canadian brands that are able to put the consumer first, offering innovative solutions to unmet consumer challenges will certainly set themselves apart from the competition.

Think with Google is packed with insights and data like this for Canadian marketers. To subscribe, visit   Think with Google.

Sources:

1 Google Canada/Ipsos, "Canadian Car Buyer Journey 2016," September 2016, n=5,016 online Canadians 18+.

2 Google Canada/Ipsos, "Canadian Car Buyer Journey 2016," September 2016, n=16,433, overall aggregate conversion rate across all brands considered.

3 Google/Ipsos Connect, "Rising Consumer Expectations in the Micro-Moment," December 2016, Canada, n=1,317 Canada online smartphone users 18+.

4 Google / Kelton. "How Digital Innovations Influence Consumer Expectations," December 2016, Canada, n=3,077 smartphone owners.