Trend to Shelf: Kraft Heinz's drinkable Philly product
A new yogurt smoothie hits shelves, leveraging one of the company's most iconic brands.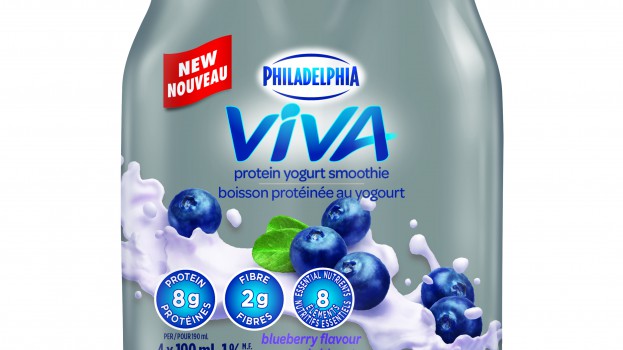 Kraft Heinz Canada is using one of its iconic brands as the jumping off point for a new product innovation addressing the morning occasion and Canadians' desire for convenient drinks that are good for them.

The company has launched a new drinkable product, called Philadelphia Viva Protein Yogurt Smoothies.

The drinkable yogurt category is outpacing the growth of traditional "spoonable" yogurt, with current offerings mainly focused on families with kids, Rebecca Harth, director of brand building for cheese and coffee at Kraft Heinz Canada told strategy via email. The new Philadelphia product addresses an opportunity with adults, offering different benefits.

The adult drinkable yogurt category is largely focused on digestive health but through its research, Kraft found an opportunity to focus on other benefits key to the morning occasion – namely protein and fibre, Harth says.

Extensive work with consumers over the past few years revealed an opportunity to grow Philadelphia and innovate beyond cream cheese but also address consumer trends such as the desire for increased protein and fibre. As a brand, Philadelphia already has taste credentials, paired now with the health positioning, Harth notes.

"We know consumers are already exhibiting this behavior, seeking more healthy alternatives in away from home environments, or making smoothies from scratch themselves, so this is a convenient response to that need," she says.

The Philadelphia brand has high brand equity and market share, represented in almost 60% of households, she says. What's more, shopper research suggested that the brand and its associated visual equity (namely its signature silver colour) had breakthrough potential at shelf, with the ability to grow the category further, Harth says.

Demographically, millennials do over-index with this kind of product but the strength of the Philadelphia brand lends itself to other consumers, she says. Like many Kraft Heinz brands, its target isn't necessarily defined by traditional qualifiers like age or gender but rather, is after those Canadians looking to "live an enriched life," she says.

The product began hitting shelves in early April and is currently making its way onto shelves nationally, with launch efforts concentrated within all grocery channels. The launch will be supported with national marketing, including TV and online video, digital, social media and in-store activations throughout the year. The brand's agency of record, Leo Burnett Toronto, will lead the new mass marketing, with Starcom MediaVest Group on media.