Lg2 takes Grand Crea
The agency's work with Quebec's Dairy Farmers earned it the top prize at the show recognizing the best work in Quebec.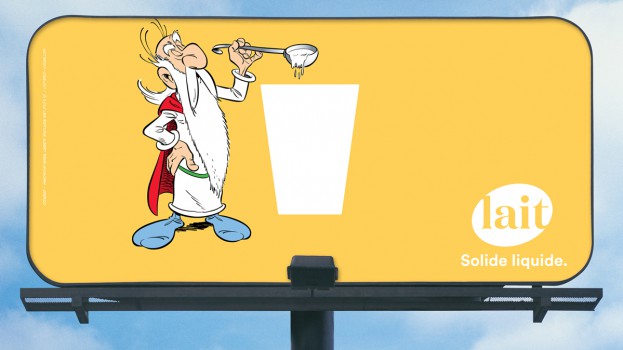 It's a good thing milk makes you strong, because Lg2 had a lot of hardware to carry home after the Crea Awards last week.
At the awards show recognizing the best work out of Quebec's ad industry, the agency took a total 58 awards, including 13 Grand Prix wins.
Among those was the Grand Crea for its "Solide Liquide" campaign for the Quebec Dairy Farmers. The campaign, which was executed in a variety of ways across traditional and digital platforms and used recognizable fictional characters and celebrities, was meant to position milk as a part of an everyday healthy lifestyle by focusing on the individual benefits of each nutrient found in milk.
While its work for the Dairy Farmers earned Lg2 its most awards, it was also recognized for its work with Farnham Ale & Lager, SAAQ, Kruger and Krispy Kernels, among many others.
Sid Lee pulled in 11 Grand Prix wins and 16 awards. In addition to new executions in last year's Grand Crea-winning "#TuDevraisAcheterUn649″ campaign for Loto-Quebec, it also won for work with Reno-Depot, The North Face, Red Barrels and Videotron.
Other Quebec agencies taking home a Grand Prix from the show included Cossette, Rethink, Bleublancrouge and Heyday.
The full list of winning campaigns can be found below, as well as with case studies and creative at Infopresse.
Lg2: 13 Grand Prix, 45 Prix
Grand Prix: 13
Farnham Ale & Lager, "Nouvelles amères": Print
Farnham Ale & Lager, "Degrés d'amertume": Print
Festival de magie de Québec, "Panneau mystérieux": OOH
Fromage d'ici, "Rien à envier": Print
Krispy Kernels, "Noix mélangées": Radio
Les producteurs de lait du Quebec (Quebec Dairy Farmers), "Solide Liquide": Grand Crea
Les producteurs de lait du Quebec (Quebec Dairy Farmers), "Le lait": Film
Les producteurs de lait du Quebec (Quebec Dairy Farmers), "Le lait Noël": Film
Les producteurs de lait du Quebec (Quebec Dairy Farmers), "Le lait au chocolat": Digital
Les producteurs de lait du Quebec (Quebec Dairy Farmers), "Exposition 16 nutriments": OOH
SAAQ, "Se foutre": Film
SAAQ, "David Swift": Radio
Tourisme Montreal, "Sorry": Mico-targeting
Prix: 45
Farnham Ale & Lager, "Bureau": Film
Farnham Ale & Lager, "Un peu amère": Film
Farnham Ale & Lager, "Bitter Sounds": Film
Farnham Ale & Lager, "Chaloupe": Print, OOH
Farnham Ale & Lager, "Degrés d'amertume": OOH
Farnham Ale & Lager, "Nouvelles amères": Creativity, Micro-targeting
Farnham Ale & Lager, "Amère": Integrated
Fromage d'ici, "France": Print
Krispy Kernels, "Noix mélangées": OOH
Les producteurs de lait du Quebec (Quebec Dairy Farmers), "Le lait": Print, OOH (3)
Les producteurs de lait du Quebec (Quebec Dairy Farmers), "Le lait GSP": Film
Les producteurs de lait du Quebec (Quebec Dairy Farmers), "Le lait Nadia": Film
Les producteurs de lait du Quebec (Quebec Dairy Farmers), "Le lait solide": Radio, Integrated
Les producteurs de lait du Quebec (Quebec Dairy Farmers), "Le lait de Noel": Digital, Integrated
Les producteurs de lait du Quebec (Quebec Dairy Farmers), "Le lait au chocolat": OOH (2)
Les producteurs de lait du Quebec (Quebec Dairy Farmers), "Popeye": Print, OOH
Les producteurs de lait du Quebec (Quebec Dairy Farmers), "Pere Noel": Print
Maxi, "Ben oui, Maxi!": Film
Ministère de la Santé et des Services sociaux, "Danse": Film
Ministère de la Santé et des Services sociaux, "Chandail et Chignon": Print, OOH
Orchestre symphonique de Quebec, "Mozart": Film
Orchestre symphonique de Quebec, "Spectateurs": Micro-targeting
Penningtons, "#Iwontcompromise – Runner": Film
Parc Olympique, "40 ans": OOH
Rethink Breast Cancer, "Give-A-Care": Digital
SAAQ, "Casque": Film
SAAQ, "Amis": Radio
SAAQ, "Beaux parents": Radio
SAAQ, "Helen Bastin": Radio
SAAQ, "Le grand voyage": Digital
SAAQ, "Lit/Matelas": Digital
Self-promo, "35% More": Creativity
Scotties (Kruger), "Mouchoir de circonstance": Print, OOH
Topla!, "Hypnotiseur": Radio
Yum Brands, "Annonce dans les patates": Print
Sid Lee: 11 Grand Prix, 16 Prix
Grand Prix: 11
Earth Day Quebec, "Chambres d'enfant": Print
Loto-Quebec, "#TuDevraisAcheterUn649″: Film, Integrated
Loto-Quebec, "Azur": OOH
Loto-Quebec, "Jarre à doigts": OOH
Red Barrels, "Underscares": Digital, National/International
Reno-Depot, "Écoute ta maison": Radio
Reno-Depot, "Abribus": Creativity
The North Face, "Miles From Nowhere": Film
The North Face, "Maddness": National/International
Prix: 16
Loto-Quebec, "#TuDevraisAcheterUn649″: Film
Loto-Quebec, "Circulation": OOH, Creativity
Loto-Quebec, "Docteur/Baguettes": Film
Loto-Quebec, "Scrabble/Passeport": Film
Loto-Quebec, "Ascenseur": Film
Loto-Quebec, "Le Duel": Film
Loto-Quebec, "Lotto 649 et La Presse +": Digital
Loto-Quebec, "Poteaux chanceux": Creativity
Loto-Quebec, "Canon à t-shirts": Creativity
Reno-Depot, "Virez fou": Radio
Reno-Depot, "Application Sico": Digital
Reno-Depot, "Abribus": OOH
The North Face, "Madness": Film
Videotron, "Hymne": Radio
Videotron, "Luke": Radio
Cossette: 7 Grand Prix, 4 Prix
Grand Prix: 7
Amnesty International, "Barbelés": Digital
Amnesty International, "X": OOH
Amnesty International, "Tie-Wrap": Creativity
Le Garde-Manger Pour Tous, "Remplir le vide": OOH
Liberte, "Le Goût Liberté": Craft
McDonald's, "Fall is Here": OOH
McDonald's, "Big Love": National/International
Prix: 4
General Motors, "Kw/H": OOH
Le Garde-Manger Pour Tous, "Remplir le vide": Creativity
McDonald's, "Lapin": OOH
Société des Casinos, "C'est Country au casino": Creativity
Bleublancrouge: 3 Grand Prix, 6 Prix
Grand Prix: 3
Ubisoft, "The Division: The Battle of Canada": Digital
Ubisoft, "WatchDogs 2″: Digital (2), Integrated
Prix: 6
Emmi Fondu, "Le plus p'tit food truck du monde": Digital
Self-promo, "Troll Troller": Creativity
Sico, "Plan de match": Digital
Sherlock, "Pas de valeur pour les voleurs": OOH
Ubisoft, "WatchDogs 2″: Digital
Ubisoft, "Ubilympics": Digital
Rethink: 3 Grand Prix, 4 Prix
Grand Prix: 3
Sports Experts, "Le Marathon mobile": Digital, Creativity
Sports Experts, "La grue à cadeaux": Digital
Prix: 4
Old Style Pilsner (Molson Coors), "Ice Fishing Bar": Digital, Creativity
Sports Experts, "La grue à cadeaux": Digital, Creativity
Heyday: 1 Grand Prix
Grand Prix: 1
Self-promo, "Trump Vs. Hillary": Creativity
Heidi Bronstein: 1 Grand Prix
Grand Prix: 1
Liberté, "Le Goût Liberté": Craft
François Bellefeuille et Olivier Thivierge: 1 Grand Prix
Grand Prix: 1
Groupe Phaneuf / François Bellefeuille, "Tournée des commerces": Craft
Shed: 1 Grand Prix
Grand Prix: 1
Lg2, "Scotties et Fromage": Craft
Sylvain Roux: 1 Grand Prix
Grand Prix: 1
Reno-Depot, "Écoute ta maison": Craft
Studio Baillat: 1 Grand Prix
Grand Prix: 1
Red Bull, "Red Bull Music Academy Montreal": Craft
Jean-Michel Ravon: 1 Grand Prix
Grand Prix: 1
Les producteurs de lait du Québec, "Le Lait GSP, Nadia, Piché et Le lait de Noël": Craft
Olivier Staub: 1 Grand Prix
Grand Prix: 1
Le Garde-Manger, "Remplir le vide": Craft
Alfred: 3 Prix
Prix
Hertel (Lavo), "Faisons le ménage dans les vieux clichés": Digital (2)
Via Capitale, "Grand changement": Film
John St: 3 Prix
Prix: 3
Médecins Sans Frontières, "Scalpel": Film
Médecins Sans Frontières, "It Takes One To Save Many": Print, OOH
DentsuBos: 2 Prix
Prix: 2
Archdiocese of Montreal, "Quantité illimitée": Print, OOH
Les Evades: 2 Prix
Prix: 2
Cinema du Parc, "Grands Classiques": OOH (2)
Koze: 1 Prix
Prix: 1
Groupe Phaneuf/Francois Bellefeuille, "Tournée des commerces": Film
Tam Tam\TBWA: 1 Prix
Prix: 1
La grande guignolée des médias, "La dégringolade alimentaire": Digital
B-612: 1 Prix
Prix: 1
Fondation Jean Lapointe, "Trop Facile": Digital
JWT Montreal: 1 Prix
Prix: 1
Air Canada, "La musique nous transporte par Air Canada": Creativity