ATB to bring Pepper to its branches
Why the Alberta bank is the first in Canada to allow its customers to interact with the friendly robot.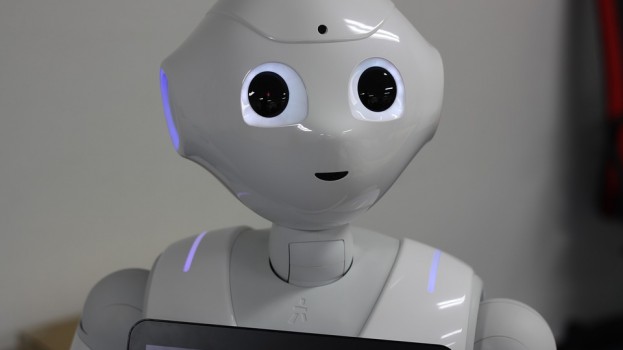 Alberta's ATB Financial will soon let customers do some of their banking through a robot when it brings SoftBank Robotics' Pepper to select branches over the coming months.

For those unfamiliar, Pepper is a robot designed to be a companion to humans, famed for its ability to recognize human emotions and adapt itself to its users' tastes and habits. In the business realm, Pepper has been used by brands including Nescafe and Costa Cruises to interact with consumers.

Sandi Boga, senior manager of innovation at ATB Financial, says the execution is very much a way for the bank to learn what kind of role robotics has in its business by observing what its customers are comfortable doing through a robot interface. But by working with SoftBank and digital consultancy Infusion, ATB will enable Pepper to do four tasks that the initial consumer research has suggested people are open to.

The first is a product recommendation service where Pepper will ask a customer a number of questions and make a suggestion based on the answers. The second is more of an educational piece, where Pepper will take customers through ATB's TrackIt online budgeting tool and help them download and use it. The third is a simple financial literacy quiz, and the fourth is a "Fun with Pepper" option that will have the robot dance, pose for a selfie or tell its own backstory, be it for customers or to give their children something to do.

ATB recently conducted a large-scale research project about perceptions and customer behaviour as it relates to banking in Alberta. One of its findings was that there is a significant consumer segment that is intimidated or distrustful of banks but could  become  very loyal customers if they have a positive experience once they get through the door.

"The robot can not only provide very consistent product service recommendations, but bring people in off the street who might not have thought to come into a branch, engage them and show them that banking can be fun and not super serious," Boga says. "We are trying to use banking to create happiness for people, so a robot seems like a very fun way to start."

Boga adds, however, that Pepper is not meant to just be an attraction or gimmick. The bank will be closely monitoring the metrics collected during the test phase to help build out its robotics and self-service offerings. ATB already has high in-branch customer satisfaction ratings, but Pepper has a number of other functions that could be added down the line that address common, industry-wide pain points.

For example, it could eliminate the need to wait in line by offering answers to simple questions like the day's exchange rates or letting customers schedule an appointment with a human advisor. It can increase engagement with customers by giving them a personalized greeting in any language – something of increasing importance given Alberta's rising number of new Canadians. It could follow up on previous queries the customer has made online or over the phone.

Also, Boga says the educational capabilities of Pepper are particularly exciting as the bank looks to drive awareness for some of its newer self-service options among people who might be embarrassed to ask simple questions.

"People sometimes feel dumb asking questions if they don't know something, but the robot isn't going to judge you," she says.

Founded during the depression, ATB has typically been seen as a smaller "farmer bank," and it has been trying to change that perception over the past year, in part through technical innovation. Besides Pepper, ATB has launched services on chatbots, revamped its mobile app and was one of the first banks in Canada to perform a block chain money transfer.

Pepper will first be brought to ATB's branch in Calgary's CF Chinook Centre shopping mall, before going to the 8th Avenue Place business tower and the Steven Avenue Walk outdoor pedestrian mall.