Check it out: A Toronto non-profit rattles residents
A new campaign prompts people who think homelessness is an inconvenience to rethink their opinion.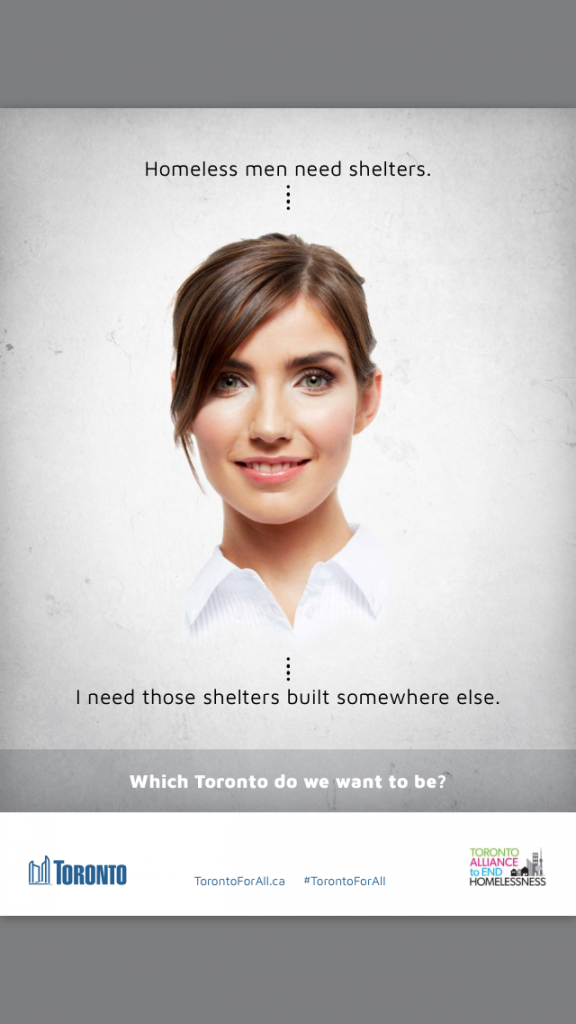 There are few things worse than ignorance cloaked in passive contradiction.
It seems to be a bit of problem with Torontonians, specifically. Some are spreading the myth that homelessness is a "choice." Many believe that men who on streets are sex offenders and good-for-nothing criminals. And worst of all, some show empathy for those who need shelters, while simultaneously expressing a low tolerance for shelters that personally affect them (i.e. they bring down housing values — yet another myth).
An organization has decided to stand up to the uninformed populace, creating a public awareness campaign that forces them to face their foible.
The Toronto Alliance to End Homelessness partnered with the City of Toronto to launch the above and below ads that feature a nameless man and woman seemingly showing support for the system, with statements like "Of course we need shelters for homeless men," but then delivering kicker contradictions, such as "…just not near my house."
Public was the social impact shop behind the campaign, with the creative being run in transit and online ads, as well as via social media. There will also be sponsored content in Toronto Life.
"NIMBYism" ("Not In My Backyard") has also similarity been addressed by Raising the Roof, in a gotcha campaign (by Leo Burnett) that shamed residents of an affluent Toronto neighbourhood for griping about the upcoming arrival of a shelter near their homes.