Behind Aldo's ecommerce updates
A new look with new content keeps the shoe seller competitive in a tight retail tech race.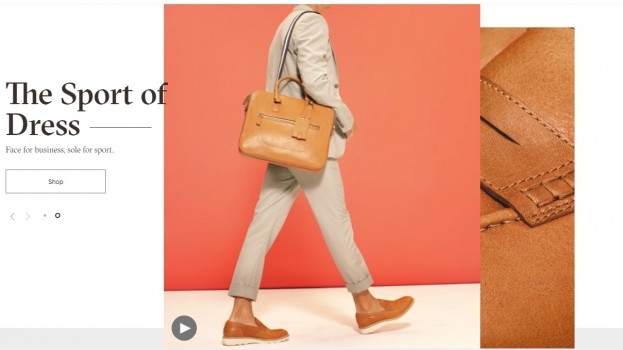 Shoe retailer Aldo has unveiled an updated website and ecommerce experience as fashion retail continues its shift towards a more mobile world.

The redesign, which was handled by Work & Co., is equal parts technical and visual upgrade. On one hand, it bears a new more premium look. But to better serve the growing number of mobile shoppers to AldoShoes.com, the site is now responsive to fit desktop or mobile screens. And the ecommerce infrastructure has been upgraded to not only make online shopping faster, but expands its reach to new markets. (The relaunch coincides with ecommerce options extending to 10 new countries, where previously Aldo could only sell online to Canada, the U.S. and U.K.)

Gregoire Baret, Aldo's general manager of omnichannel experience, says "inspirational content" also now populates the site, with owned and user-generated content appearing at various steps in the shopper's journey through to the purchase phase.

"It's about redefining the flow," Baret says. The content is "embedded in a natural way through the flow. Through discovery of the catalog, you'll discover at the right moment and in the right format some inspiration content. It might be a look book or social media content tied to the product."

The online retail arms race has been heating up steadily over the past few years as retailers have invested not only in keeping up with their legacy competitors but with new companies born as online-only stores that disrupted ecommerce and are now expanding into brick-and-mortar stores. Frank & Oak, for example, recently added AI-assisted shopping to its ecommerce channels.

Aldo's online sales are growing faster than in-store sales, with Baret saying online saw a 15% sales jump in 2016 versus a 5% increase in-store. He says online sales account for approximately 20% of overall sales revenue at present, with just under 50% of that total now coming through mobile channels.

"We expect the [online] revenue to grow from there next year," Baret says.

Aldo Group (which also operates the Aldo Rise, Mr. B's, Call It Spring and Globo retail banners) reported $1.8 billion in annual sales last year.