Desjardins reinforces the big picture
The credit union's new positioning strengthens the link between its members and the community projects it supports.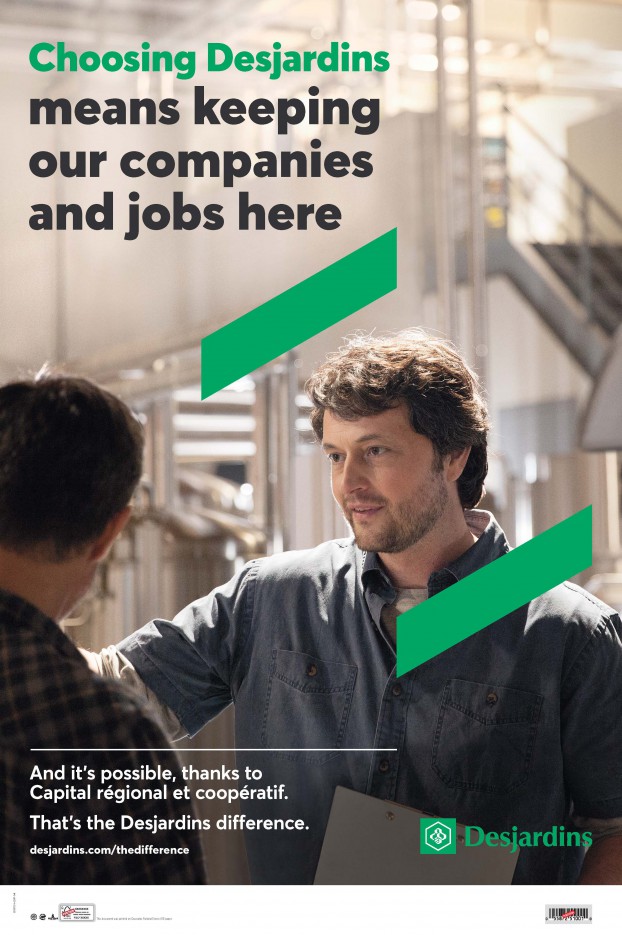 Desjardins is differentiating itself from other financial institutions by looking beyond mortgages and RRSPs in its new brand positioning centred on the ways it gives back to the communities it serves.
Each of the ads, created by Lg2, begin by focusing on one of Desjardins' products, such as car insurance, mortgages and investment options. As the ad says, this is where typical bank ads would end, but the viewer is then taken across town to see the impact Desjardins – and, by extension, its customers who buy its products – has on communities, like capital development funds that keep jobs in Quebec, financial literary services or entrepreneur support programs.
"When you are with another bank and you buy a product, all you have is a good product," says Nathalie Lachance, VP of marketing at Desjardins. "When you do business with Desjardins, that enables much of what we do in the community."
Last year, Guy Cormier was elected as Desjardins' new chairman of the board, president and CEO, and the new leadership has been aiming to evolve the company to be more people-focused and modernize consumer perception. Part of that was a year of research on the Desjardins brand and its members, and while many people reacted favourably to the initiatives Desjardins supports, they felt it wasn't something that was made clear in its previous marketing.
"They really believe in us and really wanted to participate in these projects," Lachance says. "They forget that these are things we stand for and that they contribute to it just by being a member. That link gets lost in their daily life, and we get lost a little in our communications because we talked a lot about products and offering not about why we exist and what our members mean to us. So we felt that it was the time to reaffirm that."
In a space that's as highly regulated as financial services is, there is little room to innovate or differentiate from a product and services standpoint, which is why many major banks have adopted brand positions that reflect some kind of bigger-picture perspective. Lachance says, however, that as a co-op, that kind of message is more authentic coming from Desjardins, which gives $82 million a year to programs as part of its core mandate.
"[Other banks] need to anchor themselves into something bigger than their products, because the space for differentiation isn't very big," she says. "We don't have shareholders, we have members, so whatever we have goes back to their communities. It's not just a positioning, like a bank will position itself with whatever is trendy. It's a part of the way our company is organized."
However, a financial institution like Desjardins still needs to drive awareness for its products. Also in currently in market are a series of new video, TV and out-of-home ads focusing on Desjardins' Odyssey World Elite Mastercard, its online and mobile insurance quote service and Home Alert program.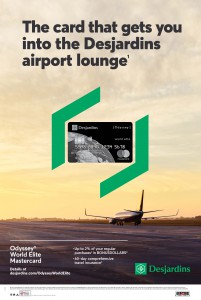 In the past, Desjardins has attempted to weave its broader brand story into more product-focused marketing, but Lachance says that over complicated the message, confusing consumers and making the ads less effective. The current product ads don't get into the big picture of how Desjardins operates and gives back as the main brand spots do, but have small aesthetic similarities, such as the borders of the green "honeycomb" in the Desjardins logo, helping to link the concepts. Lachance says the company is taking more of a layered approach to the communications, as opposed to attempting to do too much with one message.

"If you think about a credit card, you really need to talk about the benefits of the product to consumer," Lachance says. "You don't have time to do that if you're also trying to talk about the big story. When it's time to talk about the product, we'll talk about the product, and when it's time talk about the big story, we're going to talk about the big story."