SunRype joins the cider game
The B.C. company debuts a new product as part of its diversification strategy.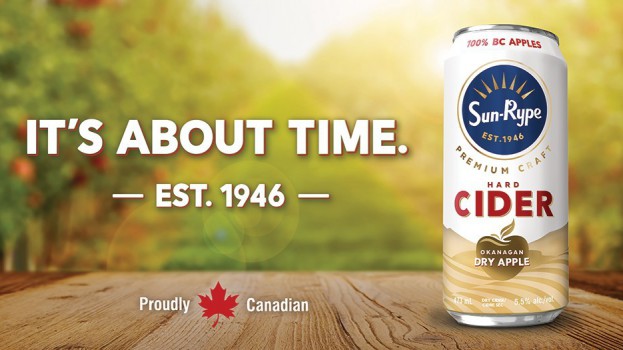 SunRype Products has added some edge to its product portfolio, introducing a new hard cider.

The Kelowna, B.C.-based company actually delved into its own company history for the idea. In the 1950s, the brand – known for juices and fruit-flavoured snacks – introduced a hard apple cider.

A similar product didn't come back onto shelves until last year, when the company introduced a limited edition bottled hard cider as part of its 70th anniversary.

That success prompted it to make its Premium Craft Apple Cider a permanent fixture in its portfolio, Kat Hillis, marketing manager at SunRype told strategy via email. The brand partnered with fellow Kelowna company Big Surf Brewing to make the new product.

"One of our strategies for growth focuses on diversification, and that means looking to opportunities that take our brand beyond 'juices and fruit snacks' to truly become a food and beverage company," Hillis says. "That insight opened up a whole world of opportunities for us, and we've come to realize that our brand is extendable into other categories, including cider."

SunRype is targeting active, on-the-go adults with the new launch, but Hillis says there's also an opportunity to leverage its strong brand equity to target people who grew up with the brand but whose tastes have evolved.

Still, a key consideration at launch has been to distinguish its more mature product from its family-friendly portfolio, particularly its signature apple juice, Hillis says. In other words, the hope is to communicate its brand equity but in a more adult way.

To do that, it's used a package design, led by Sefton Creative, that features an adaptation of the retro SunRype logo, circa 1946, and a graphic representation of the Okanagan Valley (home to the apples it uses for its products).

To support that launch, the brand has worked with Vancouver agency Wasserman + Partners on an ad campaign titled "It's about time," which includes social media, digital advertising and out-of-home driving to private liquor stores in B.C. and Alberta.

As SunRype continues to diversify, more new products will be coming down the pipeline, Hillis says.