Chatting with an expert instead of a bot
Why ChickAdvisor is giving consumers conversations with real influencers (and how it could help a brand's chatbot strategy).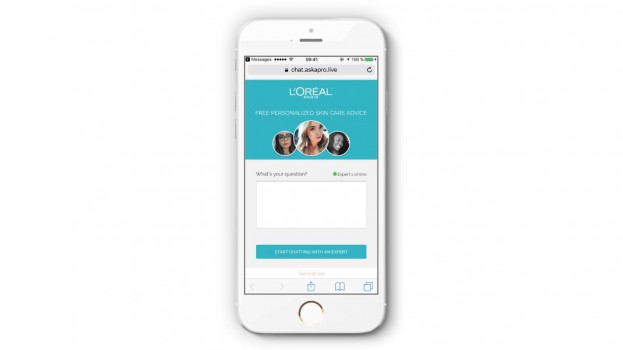 One of the most common applications for chatbots as they boom in popularity is their ability to make product recommendations tailored to a customer's preferences. But sometimes customers just need the personal touch only a human can provide.
Women-focused product review platform ChickAdvisor has been developing a new platform called "Ask A Pro." It allows consumers to use mobile chat platforms to connect with a member of the company's massive network of influencers, and have a conversation to determine which of a brand's products best suit their needs.
ChickAdvisor launched the pilot of "Ask a Pro" for Skin Care Awareness Month in April, focusing on L'Oreal Paris' line of skincare products. Customers were introduced to the program either by clicking on a banner ad or texting a number shown on in-store signage at retailers like Shoppers Drug Mart and Walmart across North America.
That would open a web-based chat interface that would  connected them with one of roughly 180 ChickAdvisor reviewers who were experts in skincare and had experience working in a beauty retail environment.
The reviewers were equipped with the Ask A Pro app, which notified them when a customer was looking for advice. While the experts were using the app – similar to how an Uber driver is notified when there's a nearby ride request – customers can use whichever interface was most comfortable to them.
L'Oreal opted to use the web-based chat activated through SMS and banners, but Alex de Bold, co-founder of ChickAdvisor, says the platform can be connected to any chat platform the brand wants to activate in, like Facebook Messenger or WhatsApp. Being channel-agnostic is an efficient approach for companies like L'Oreal Paris, which has products meant for women of all ages who may have different levels of comfort with different platforms.
De Bold says roughly 60% of the site's traffic comes through mobile. The company has been working for the past two years on a strategy to help connect customers with personalized information from a live expert to give another option to shoppers who were already reading reviews while in a store aisle.
That kind of tailored recommendation is especially useful in categories where a regular product review or even a chatbot might not be able to provide all the information relevant to the context and needs of each individual.
"Ratings and reviews are so important for every single brand because customers want a subjective point of view on what they're buying," de Bold says. "By giving brands access to ratings, reviews, and now a real person who can personalize and contextualize information, we're helping brands keep people in-store or online in their customer experience."
That's not to say, however, that utilizing the benefit of a human expert means turning your back on bots altogether. L'Oreal – a longtime client of ChickAdvisor that worked to help pilot "Ask a Pro" – has also been investing in AI and chatbots, including a recent partnership with Montreal's Automat to create a series of Facebook Messenger bots as a test-and-learn project.
Further to that goal, De Bold says one of the long-term benefits of a program like "Ask A Pro" is in phase two of the project, where it feeds information about the questions customers are likely to ask and the best answers to serve their needs into a database, which can then be used to inform an AI-powered recommendation platform or chatbot.
"Chatbots could be channel agnostic, but the problem is when you're launching a new product, there's no pre-existing information," de Bold says. "Give it one question it can't answer and it falls off the rails. This kind of program can prime a chatbot for a new product, and using human experts along the way can continue to make it stronger and faster along the way."
"It's a huge pain point for brands," de Bold says. "Traditional brand planning is channel-centric. You are planning something in retail or in digital, but the consumer doesn't care about your brand planning process. They want you to interact with them in the medium of their choosing, when they want. We're making it frictionless."