Cadillac Fairview hacks at AR and VR
Agency partner SapientRazorfish hosted a hackathon to explore ways the tech could enhance the shopping experience.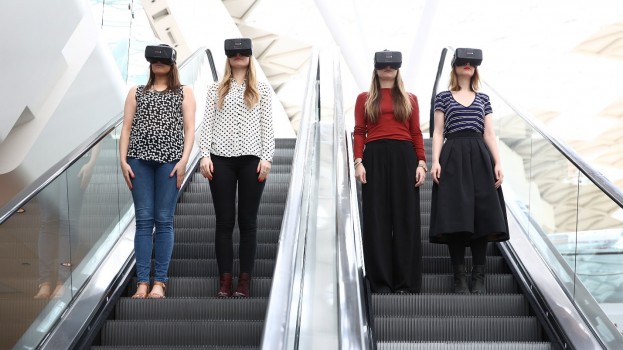 Ahead of last year's holiday season, Cadillac Fairview launched a campaign across all of its shopping centres featuring the "Tufties." The fuzzy characters featured heavily in both above-the-line creative and in signage across the company's malls. But if you're a parent, you likely also know about "The Tufties Magic Gift App."
While ostensibly a simple, kid-focused mobile game, it also had augmented reality functionality, with certain features only unlocked by finding and scanning markers located throughout CF shopping centres.
"We enjoyed doing that," says Adam Benson, senior director of digital marketing at Cadillac Fairview. "The number of hours people spent using the game was one of our key metrics and we were happy with what we saw. We want to do more in the AR and VR space, but we wanted to get outside our own walls and give a team of people virtually no boundaries to come up with some huge ideas, some of which we might be able to execute in our centres."
One of the agency partners on CF's holiday campaign was SapientNitro (now SapientRazorfish after last year's merger), and this week the agency hosted a two-day hackathon with roughly 40 of its staff to help its client explore the next opportunities in augmented and virtual reality.
The agency's teams were given briefs from CF relating to different roles AR and VR could have at its malls and, like most hackathons, were tasked with ideating and prototyping their solution. The briefs included things like how the tech could help people find things in the mall, learn about a mall's history and future developments, or if there were gamification elements that could entertain kids and young people.
"We've got participation from the clients, which really helps you put the stuff you create to good use," says Chad Borlase, CD at SapientRazorfish. "One thing I've noticed as we've been doing this is that it also gets people to realize where some of the traps are when it comes to doing these things with someone like CF. So whenever they're talking about it, they know how to think around it and avoid it, and there's less time wasted the next time we tackle it."
Using tech and innovation to enhance the customer experience has been a recent priority for CF, but beyond the Tufties game, the company has not done much work with AR. But it has done digital navigation, using WiFi and Bluetooth to help customers navigate a mall or give them access to 3D maps. Benson says those kind of wayfinding applications are a huge opportunity for CF with augmented reality.
Benson also says AR opportunities are a bit more achievable than VR at present, but down the road he sees opportunities: preview tours of new stores or product trials in partnership with retailers that could let consumer virtually try on clothing, for example.
Borlase adds that both AR and VR could also be used to "beta test" new stores before they are actually built, not just to help identify problems in their layout, but finding out which customers respond most to a retail concept so they know who to target once it actually opens.
Benson points out that exploring AR and VR are more about adapting to consumer behaviour, rather than changing it. He says many customers are already actively utilizing augmented reality in its malls, be it using Snapchat filters or playing Pokemon Go.
"All of those things together tell us our audience is already excited about this place. So we want to play there and find a way to add to experiences, instead of changing people's behaviour," he says.