Fast Facts: Devil's in the digital details
A global survey suggests CEOs and CMOs are driving digital change, but legacy structures are in the way.
A new study of 1,500 senior business executives from Canada and around the world suggests the business community has reached an "inflection point in the life cycle of digital transformation," but structural and talent issues remain major blockades to progress.
The survey, conducted by recruitment firm Russell Reynolds Associates, shows the senior-level support for digital transformation at most large scale corporations is strong. However, once a company decides to move forward with a new agenda, putting it into practice remains tricky.
"Digital transformation's greatest barrier is organizational ambiguity," says Chris Davis, executive director at Russell Reynolds Associates in Toronto, in the report. "Many companies are struggling to coordinate the roles played by core digital teams, IT, and marketing. Successful digital strategies require an integrated approach with clear delineation of governance and decision rights, and the institution of joint metrics across shared areas of oversight."
Digital strategy has swung fully to renovating the customer experience, which sits as the most-cited priority among those polled.
More respondents said their CEO (40%) was the person within their company setting the digital agenda and was digital's "biggest advocate" (67%), but marketing departments and CMOs are not far behind. Marketing was listed alongside IT and the data/analytics team as a key partner in driving company-wide change.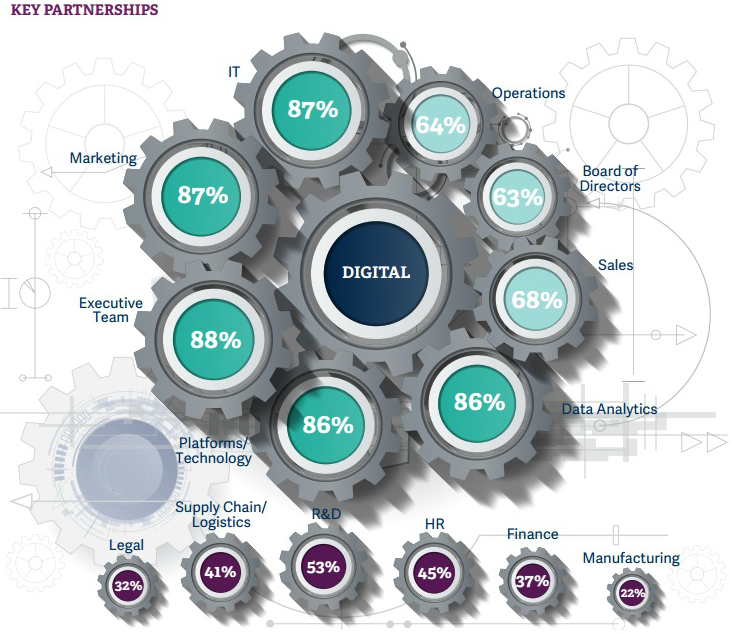 But, while company leadership did not emerge in the survey as a barrier to change, the report's authors say "nearly half [of respondents] say that functional silos, inertia and a lack of digital expertise distributed across the organization are holding digital back."

"We are at an inflection point in the life cycle of digital transformation," says Tuck Rickards, managing director of Russell Reynold's San Francisco office. "Companies are taking an integrated organizational approach to blend the old with the new in order to create seamless customer/client experiences. In addition to creating centralized end-to-end tech platforms, best-in-class companies are leveraging data analytics, embedding digital talent across the organization, and reorganizing around a detailed mapping of their customers' journey."