Assembli builds a healthier dining option
A new fast-casual format and single-price model aims to shake up what diners have come to expect from a pizza place.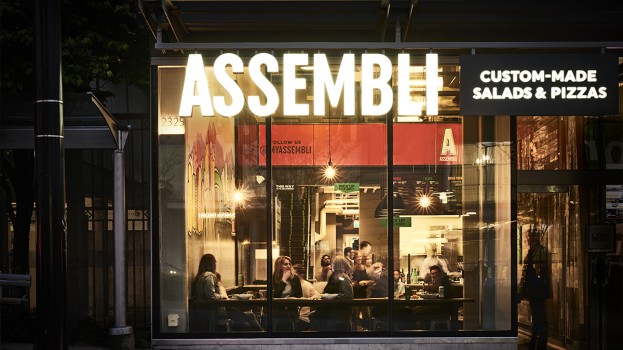 A new restaurant chain is importing a successful model from the U.S. to provide a slightly different kind of pizza dining experience in Canada.
Assembli is a new fast-casual restaurant that offers custom pizza and salads and an experience that looks to entice customers with the convenience of a delivery chain matched with a more upscale product. Diners order their custom pizza or salad from a counter (for dine-in at the first Vancouver location's 30-seat dining room or for take out) and pay a set price regardless of ingredients. Mobile ordering and delivery service are also on the way.
CEO and co-founder Deanna Embury said such pizza joints such as  MOD Pizza and Pieology are taking off in the U.S. and she and her partners (Mike Cordoba, Robin Chakrabarti and Al Cave of Empresario Capital) "really like the customer-centric, one-price model. It's a better experience for the customer."
Similar build-it-yourself menu formats do exist in Canada already, but most do not use the single-price option, instead pricing items by weight.
"When you do pay-by-weight at a salad bar or a whole foods place, you've no idea what it's going to cost you," Embury says. "It's a bad start to your experience."
"We started exploring the pain points for people who want to dine out," she said. Beyond getting high quality food at a decent price, the team also found a benefit to adding salad to the build-your-own menu concept to broaden the appeal and make it easier for groups with diverse tastes to have a "fresh, fast-casual lunch."
Assembli is leaning on its high-quality ingredients as its primary differentiator, hoping to appeal to Canadians' well-reported desire for healthier ingredients and meal options. According to its website, Assembli's menu is "non-GMO, hormone-free, antibiotic-free, local and organic when possible, as well as gluten-free and dairy-free" on request.
Branding and marketing for the chain was handled by Vancouver-based creative agency 123w. The agency designed the logo and interiors of the restaurant, but there is no mass campaign being planned for the time being. "We're going for more of a grassroots approach for now," Embury says. Street teams are handing out promo cards near the Vancouver location.
A second Vancouver location is set to open in the coming months, and Embury says she and her partners are looking at Toronto real estate as well.