Olivieri puts gnocchi in the pan
The Catelli brand is using a new product innovation to drive interest in the fresh pasta category.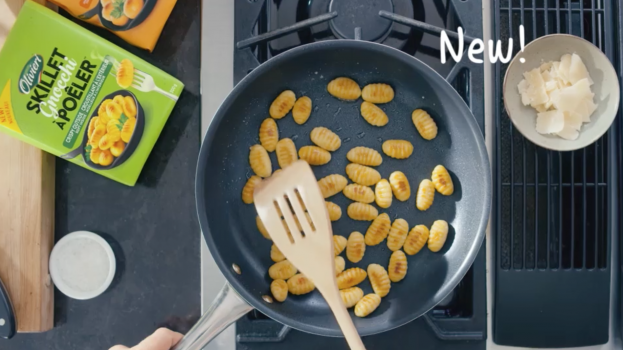 Catelli Foods wants its new Olivieri-brand gnocchi product to be more than just another contender in fresh pasta. It's using a bit of product innovation in the hopes of attracting new shoppers to that part of the grocery store.

Olivieri Skillet Gnocchi is, as its name suggests, prepared on the stovetop in a skillet (as opposed to boiled, as is usual). It takes five minutes to cook and offers a crunchy outer layer around a soft centre. The product comes in two varieties – regular and cheese-filled.

"Moms are always on the lookout for a meal time solution that not only is convenient, but one that she feels good serving her family," says Alain Locqueneux, general manager of Olivieri Foods, of his target market. "Since only 35% of Canadians currently shop the fresh pasta category, there is a significant opportunity to bring more consumers into the category."

To get that missing 65% in front of its shelf space, Olivieri has tasked its agency partner, Bob's Your Uncle, to market the new product through the "Joy of an Italian Meal" campaign it launched last year after a bit of a branding overhaul in 2015. That overhaul saw new product packaging, new products and product formulations. Since "Joy of an Italian Meal" began, the brand has enjoyed 15 consecutive months of sales growth.

"Before our ad campaign, our sales were in decline by 3%," Locqueneux says. Now, quarterly growth is averaging 12% "driven by strong baseline growth of 14%. Our market share has also increased by 1.9 points."

Bridgemark designed Skillet Gnocchi's packaging. Media for the campaign is being handled by Cairns O'Neill Strategic Media.