AToMiC 2017: Knowing your brand DNA
Huggies and Honey Nut Cheerios go back to basics with hugs and bees.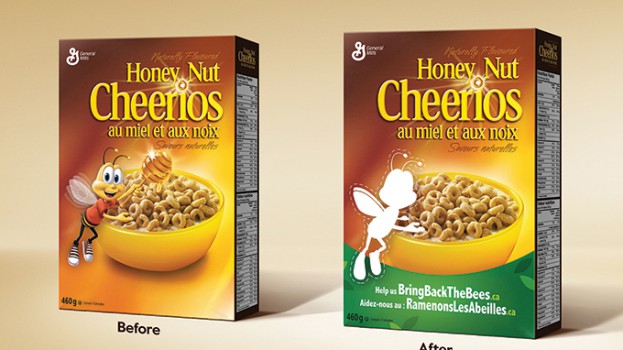 This article appears in the June 2017 issue of strategy.

The Wins: Kimberly-Clark (Huggies) "No Baby Unhugged" by Ogilvy & Mather Gold AToMiC Idea, Silver AToMiC ROI, and General Mills Canada (Honey Nut Cheerios) "Bring Back the Bees" by Cossette Silver AToMiC Idea, Silver AToMiC Shift

Sometimes the most obvious ideas are the most brilliant. To put it another way, it can be important to not overthink things. It's only natural that a brand associated with bees would want to save them, just as a brand with a "huggable" name would decide to display some affection for babies in need.

Kimberly-Clark's Huggies and General Mills' Honey Nut Cheerios dug into their respective DNAs to come up with winning campaigns that reinforced their brands' meaning while boosting bottom lines. Both campaigns did so well, in fact, that they've been adopted in other countries.

Over the course of almost four decades, mascot Buzz the Bee has been ubiquitous on Cheerios boxes and TV screens: from appeasing Frankenstein, Hulk Hogan and Grumpy Cat with fresh bowls to dancing in a music video to his own version of Nelly ("Must be the Honey"). His voice has changed, and the animation has evolved, but Buzz has always been there.

So as global bee populations began to decline earlier this decade, Honey Nut Cheerios had a potent symbol to raise awareness about the issue. All it needed to do was make him disappear.

Cossette's "Bring Back the Bees" campaign was centred around a Buzz-less cereal box, where the mascot was replaced with a white silhouette. It was pushed with an online video of people saving various animals and encouraging everyone to start thinking about the bees in this vein too. The video directed viewers to a dedicated website where they could order wildflower seeds to plant and help maintain bee populations.

The first 35 million (one for every Canadian) were exhausted in the first week of the eight-week campaign, and more than 115 million were distributed in total. "Bring Back the Bees" helped turn flat sales into an 11.8% increase.

With "No Baby Unhugged," Huggies and Ogilvy & Mather found a similar absence to fill. Babies in neonatal units, whose parents can't always be around, get top-notch medical care but they're missing out on something essential: hugs. While the emotional symbolism is strong, skin-to-skin contact is also important to newborn health in regulating body temperature and strengthening the immune system.

The brand worked with the Canadian Association of Pediatric Health Centres (CAPHC) to partner with No Baby Unhugged hospitals, where screened volunteers hugged newborns who were away from their parents. A dedicated website offered parents a Hug Plan, outlining the health benefits, and a social campaign gave $5 to hospital hug programs for every woman who uploaded a photo of herself hugging her baby.

The brand's newborn diaper sales increased by almost 30% in the first half of 2016, increasing market share by nearly 5%.