Desjardins gets Quebec on two wheels
The company aims to create "a collective movement" for its latest campaign supporting cycling in the province.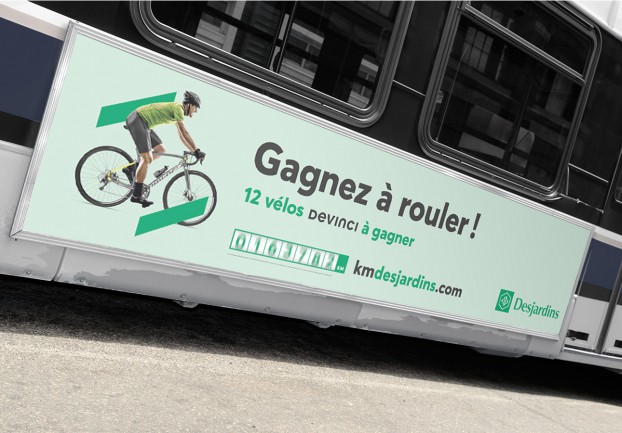 Desjardins has launched a new campaign in support of its commitment to promoting cycling in Quebec, and it's aiming to get as many people involved as possible by showing them the benefit of biking more often.
Working with agency Bob, the company has launched a website where cyclists can enter the amount of kilometres they have biked in the previous week. The website keeps a tally of the distance logged so far, but also converts that number into a measure that speaks to the variety of reasons someone might want to bike more. So, for people who want to live a more healthy lifestyle, it shows how many meals have been burned off and the hours of stress relief it has provided. For those concerned about the environment, it shows the equivalent number of trees that would have to be planted to get the same reduction in CO2 emissions. For those thinking about their finances, it shows how many all-inclusive vacations could be payed for with the money saved on car costs.
In addition, Desjardins will donate $1 for every person who signs up to programs promoting healthy lifestyles for youth. Participants also have the chance to win a new Devinci bike.
"We wanted to create a real collective movement where each participant can make a difference while seeing the positive benefits that come with biking on a daily basis," Nathalie Turcotte, VP of account services at Bob, said in a press release. "By doing so, we highlight the value of each small gesture, so everyone gets excited about the collective impact we can achieve."
To support the initiative, ads will run until September in out-of-home, print, social and digital display.
This is the fifth year Desjardins has worked with Bob in support of the company's involvement with cycling, which includes the sponsorship of more than 60 events across Quebec.