How SickKids played to win: column
Following its AToMiC Grand Prix win, the foundation's marketer breaks down its performance brand attitude.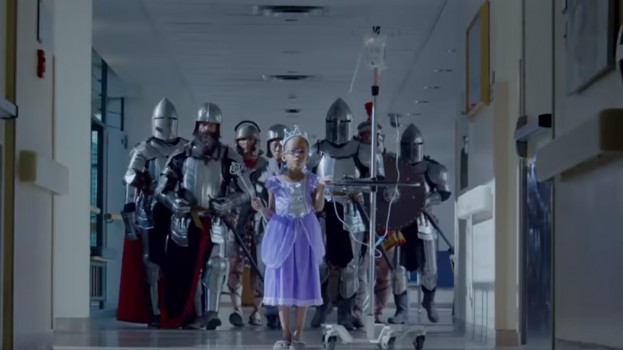 At the 2017 AToMiC Awards last night, Cossette and SickKids picked up the Grand Prix win for "VS," its edgy brand platform that was a major departure in tone from its previous campaigns. Here, SickKids' marketer explains what it took to adopt a performance brand stance and launch what was perceived by some to be a risky campaign.
By Lori Davison
A transformational change in business goals requires a transformational change in strategy.
When I started at SickKids in 2014, the brand had been pretty quiet. Then we did some great work with J. Walter Thompson in 2014 that delivered strong results, lots of creative awards and moved us to a good place on all measures. Then in 2015, with Cossette on board, the "Life Unpaused" campaign earned more awards. Donations continued to climb.
So why change course and introduce "VS"?
Well, this coming fall we will be launching the single biggest fundraising campaign in Canadian healthcare history (keep that to yourself for now). Our goal? Well, it's a big number.
We knew that we were not going to get to that number by doing things the same way. We needed to think about what the brand can be next.
We gave ourselves this ambition: tell a different side of the SickKids story in a way that makes the community sit up and take notice. Jolt people into action.
Toronto loves a winner
"VS" began with unpacking our brand to find the attributes that are true and powerful but not fully leveraged.
One important aspect of SickKids is its iconic connection with the city of Toronto and the longstanding affection the city has for us.
But there is another strong feeling here as well: pride. With SickKids, Toronto has built one of the best medical institutions on the planet, a place that has discovered genes, cured diseases and invented Pablum. It's home to the world's top heart surgeons and cancer specialists. It's an institution that saves the lives of children brought here from all over – because in many cases, we are the only ones who can.
Toronto roots for this hospital the way it roots for its teams. (Well, the way Toronto roots for its winning teams.) Toronto loves a winning team. And SickKids is a winning team.
So when Cossette landed the idea of positioning SickKids as a "performance brand," it quickly felt right. The core thought was this: "we are winning, but we won't stop fighting until every kid is a healthy kid."
The shift was largely a question of tone: from defense to offence, from merely keeping up to winning, from "help us" to "join us." We had our strategic launchpad.
That part seemed pretty easy.
Now we needed an idea that was big enough to stretch across a complex organization but could also carry the emotional charge the brand deserves. Cossette shared "SickKids VS" in our first tissue session. Sold.
I'd say that part was pretty easy too.
No watering down
Next came the work of fully committing ourselves to the genre we had chosen to identify with, meaning if you are going to declare that you are a performance brand – like Nike or Under Armour or the Raptors – you had better deliver the real thing. No hesitation or watering down. The creative had better blow people's minds. I'll leave it to you to decide if Cossette achieved that. But I'm pretty sure they blew some minds.

The campaign has been successful at raising money. SickKids Foundation had its best year ever. But the first question people ask is not about that. It's "how did you get that work out the door?" The first thing many people see when they look at this campaign is "risk."  How did you convince the organization to take that "risk"?

It involved a year's journey for my team and the agency. We invested time hearing from the whole organization and bringing them along with us: doctors, nurses, patients, parents, donors – you name it. By the day we launched, we had an army of advocates holding the door open.

Investing that time was crucial – it helped us anticipate how different communities might respond. And so when controversy did bubble up, we had the confidence and the support to be able to stay the course with the campaign.

In my mind, that is the key learning for those who look to this launch as a case study. The difficult job for any marketer is pushing forward an agenda of courage. That in and of itself requires strategy and creativity.  If you can do that, a strong internal team and agency partner can take you anywhere you are willing to go.

One journalist described the "VS" platform as a celebration of "resilience." I like that, because, often, winning is entirely about resilience. And resilience applies to the challenge of getting effective advertising out the door.

We put in the work to come up with the great idea, but don't always put in the work to keep the great idea alive.

And that is usually the hard part.

Lori Davison is VP, brand strategy and communications at SickKids Foundation.