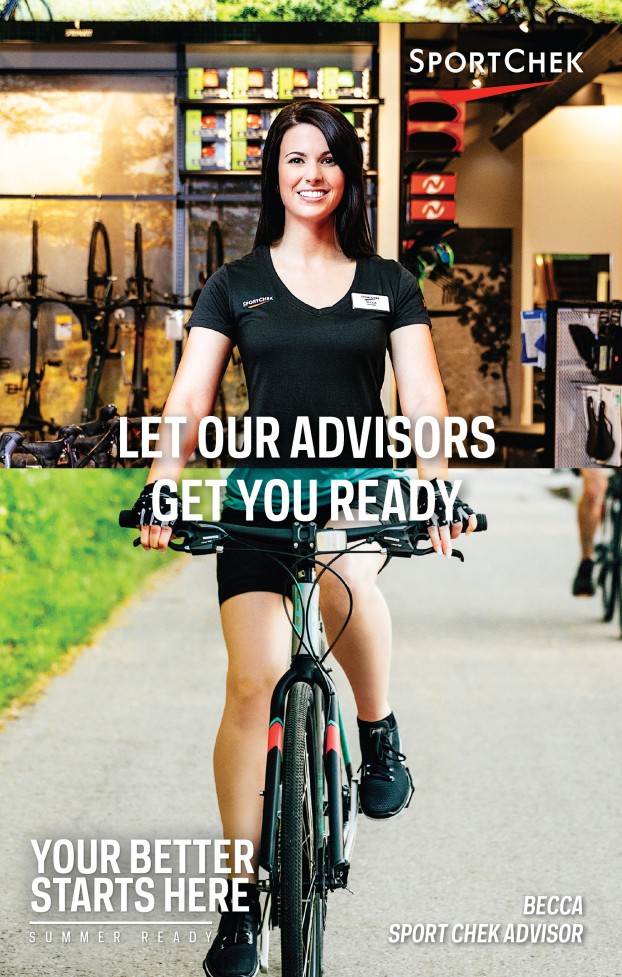 Sport Chek is putting real employees front and centre in its new marketing as it evolves its brand to be more focused on ease of shopping for its evolving customer base.
Over the past five years, Sport Chek has invested in making its in-store experiences standout from the competition, which has included its digital-focused flagship locations. The company's recent marketing creative focused on grit and inspiration, says Erika DeHaas, associate vice president, marketing at FGL Sports.
However, as shopper behaviour has evolved, Sport Chek's team decided to revisit its brand house to ensure it was evolving with customer need, she says. In other words, more shoppers are turning online and are looking to get what they need right when they need it and where they need it.
"We started to see that our customers were buying differently so we needed to stay current with how our customers viewed us," DeHaas says. "Although they appreciated and really loved that sweat and intensity, they were also becoming more sophisticated."
That's prompted Sport Chek to launch services like its recently debuted ship to home from store offering, which aims to provide a more seamless way to get product to customers (the service is currently available in about 50 stores).
In-store staff also carry tablets to live chat with online shoppers, with the idea that customers are getting that same level of expertise through whichever channel they're shopping in, DeHaas says.
Now, the brand's marketing creative is largely focused on the expertise of its advisors and the role they play in getting customers what they need, which DeHaas says is a key differentiator for the retailer. The retailer has just launched its summer campaign, with online video, digital, print, out-of-home and in-store creative featuring real "advisors" (the company has roughly 12,000 in-store employees across Canada).
The new ads are centred on the idea that the retailer's employees can help with finding products because they are experts themselves. Going forward, the brand's employees will continue to feature prominently in its advertising, DeHaas says.
While Sport Chek's target continues to be high-achievers, the new, softer creative is also meant to speak to a broader demographic of shoppers, she says.
Sport Chek worked with Anomaly on the creative for its new campaign, with Touché on media.