The Young Lions: Pepsico's powerhouse siblings
Michael and Christian Alaimo on how brotherly love (and candour) earned them a spot in Cannes.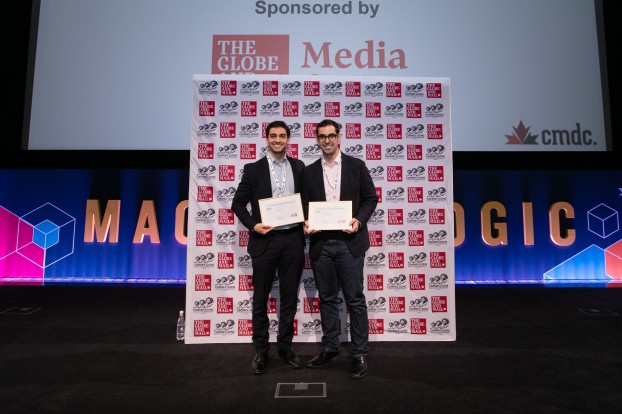 Pictured: Christian Alaimo (left) and Michael Alaimo, both from PepsiCo, are Canada's 2017 Young Marketers team.

As we count down to the 2017 Cannes Lions International Festival of Creativity, we wanted to introduce readers to the youthful agency folk and marketers representing Canada in this year's Young Lions and Young Marketers competitions.

Christian and Michael Alaimo admit they get along way too well.

Talking to the pair of PepsiCo marketers – set to represent Canada in Cannes' Young Marketers competition next week – reveals a serious lack of sibling rivalry and some serious brotherly love.

That spirit of collaboration helped the siblings earn Gold in the Canadian Young Marketers competition, with their "Lay's Wish Chip" campaign answering a brief from Samara Canada, an organization focused on improving political engagement among young Canadians.

In a way, the Alaimos were taking a risk. A five-year age gap meant that while there hasn't been a ton of rivalry over the years, the brothers haven't ever had a shot at working together before.

And that was part of what they say made the Young Marketers competition so appealing (the opportunity for both first-time festival goers to check out Cannes probably didn't exactly hurt either).

"Going into it, we were a little uncertain of what to expect," says Christian, associate marketing manager for away from home products at PepsiCo.

Luckily, the shared wavelength that comes with growing up together helped with approaching the 24-hour period in which the competitors had to ideate their campaigns. Specifically, being able to speak candidly and be direct with one another helped the young marketers zero in on a solid idea in an exercise where efficiency is key, he says.

"What we learned through working together is that the approach that we have is actually quite complementary," says Michael, marketing manager for Gatorade, echoing his brother's sentiments.

In particular, both marketers spent the majority of their time with the brief focused on getting into the mindset of the consumer. "If you don't have an idea rooted in a powerful insight, your idea will not come to life in the most compelling way [possible]," Michael says.

In the case of their winning idea for Lays, that meant understanding how young Canadians really use social media and reflecting on whether the idea the Alaimos came up with would resonate with themselves.

Ultimately, the pair focused on the insight that for young people, social media is essentially their canvas. "Every single brush stroke or post on their canvas is one more stroke to the perfect self portrait," Michael says.

The "Lay's Wish Chips" campaign would involve a new product launch where every chip in the bag would be a folded "wish chip." In the pair's plan, the idea was that Canadians would share social posts with the chips and their wishes for a better country, with the brand responding to each post and directing users to specific organizations. Lay's would also direct $1.50 (in honour of Canada 150) to "@mentioned" organizations. The campaign idea also included a content series of five digital shorts.

Heading into the competition in Cannes, the Alaimos are in it to win it and say they feel well-prepared from the Canadian competition process.

But they're also embracing the opportunity to learn from the entire festival experience and take in what they call a once-in-a-lifetime chance to compete together internationally.

As Michael puts it, "the idea that all of this journey is going to be experienced as a duo, with my brother, is pretty incredible."

Canada's best Cannes Lions coverage is at StrategyOnline.ca. Check back from June 17 – 24 for all the winners and insights from the International Festival of Creativity. For easier updates, subscribe to our daily morning newsletter.