The Young Lions: Rethink's storytelling duo
Jake Bundock and Andrew Chhour's off-the-wall idea won them a trip to compete on the global stage in Cannes.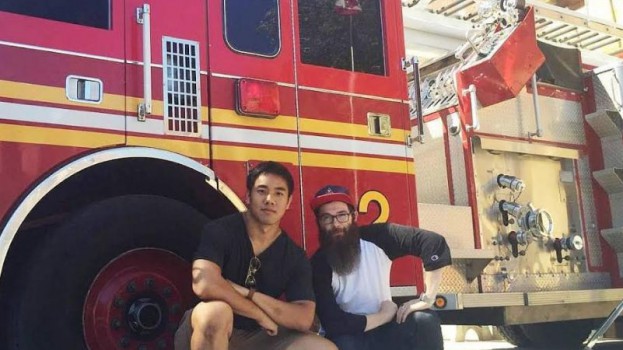 As we count down to the 2017 Cannes Lions International Festival of Creativity, we wanted to introduce readers to the youthful agency folk and marketers representing Canada in this year's Young Lions and Young Marketers competitions.

Sometimes the winning idea is the first one that comes to you. That was the case for Rethink's art director Jake Bundock (pictured right) and copywriter Andrew Chhour, who won the Film category at this year's Globe and Mail Young Lions competition.

The contest involves teams answering a client brief within a 24- or 48-hour period (depending on the category) for a chance to win a spot at the global Young Lions competition at the Cannes Lions International Festival of Creativity. This year's Canadian competition, which had a record high number of entries, included briefs from non-profit brand Samara Canada, which seeks to connect citizens with politics.

The pair's winning idea showed how everyday issues such as affordable housing and accessibility are also political issues. In the spot, everyday conversations about these issues conclude with a political ad-like sting: "I'm Mark, and I approve this message."

Bundock said the pair decided early on that they wanted to stay away from U.S. politics, which they thought would "would take it down a negative rabbit hole."

Chhour said the winning idea was one of the more off-the-wall concepts the duo conceived. But, Bundock said, "once we had it, we couldn't take our minds off it."

The pair say they chose to enter the film category because of the medium's ability to tell a story.

"We got to be a bit non-linear, which was nice," said Bundock. "We got to tell different people's perspective in a way we couldn't with print. It's the ability to tell a richer story that we like the most about film."

While they are excited to compete on the global stage, the pair sound just as interested in the trip back to Toronto after the festival.

"Everyone we have talked to about going say that you come back as a different person creatively," says Bundock. "We both want to come back and dive right in and get to work and take advantage of that inspiration we will get throughout the week."

"We are joking that we will try and come up with some ideas on the plane ride back and write them on the cocktail napkins," adds Chhour.

Canada's best Cannes Lions coverage is at StrategyOnline.ca. Check back from June 17 – 24 for all the winners and insights from the International Festival of Creativity. For easier updates, subscribe to our daily morning newsletter.