Toronto's trans youth show where their gender lives
The new wave of Toronto For All identifies diversity within diversity as part of a Pride Month campaign.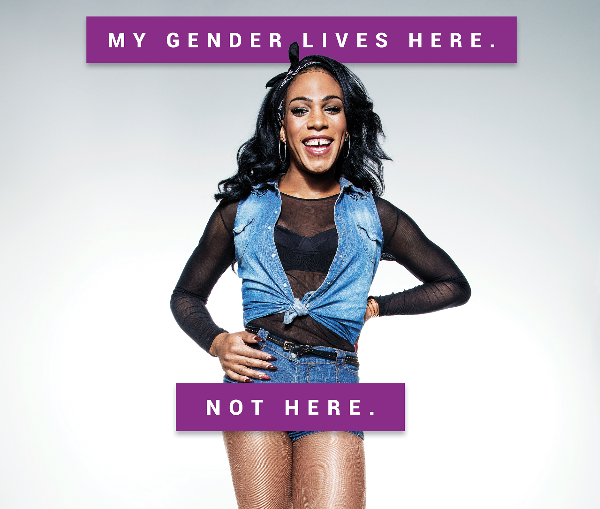 The City of Toronto has partnered with the Black Coalition for AIDS Prevention (Black CAP) on a new phase of the "Toronto For All" campaign timed to drive awareness and action for trans youth of colour during Pride Month.
The new OOH campaign features trans youth surrounded by copy meant to communicate that a person's gender is who they believe themselves to be, not defined by their bodies. It simultaneously conveys a sense of belogning. "My gender lives here" says copy near the models' heads. "Not here" says the copy over their pants.
The work specifically calls out transphobia against people of colour with the line "Trans youth of colour are part of Toronto. Transphobia is not."
"Multiple oppressions can combine," says Robbie Ahmed, one of eight trans youth advisory committee members who helped steer the campaign. "Sometimes we don't take account for the fact that there's diversity within the LGBTQ community, especially trans folks. When it comes to race, there are a lot of oppressions that combine that make getting access to services even harder."
The ads include the campaign's website address, TorontoForAll.ca, which houses educational videos and statistics on the challenges trans youth face. Traffic for the site will be seen as the bellwether for success on the campaign.
Public Inc. has been the creative agency behind "Toronto For All," steering its most recent effort to address homelessness and NIMBY-ism in Toronto. That phase generated more than 2.1 million social media impressions and saw an engagement rate of 1.76%.
The campaign has also previously addressed the issues of Islamophobia (31 million media impressions and 500,000 unique social impressions) and anti-Black racism (12 million media impressions and more than 33,000 engagements).
"There's an over-arching brief for 'Toronto For All,'" says Greg Gray, associate creative director at Public. "We're known internationally as a diverse city, and we want to protect the values that make us inclusive. We want to be the place where people can come, prosper and be happy."