No Fixed Address grows again
New leads for digital, UX, content and project management are among seven new hires at the agency.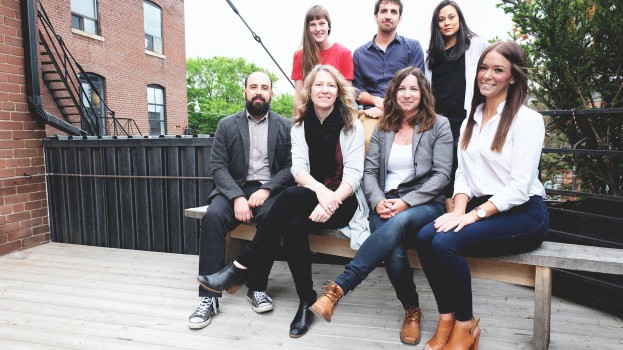 Pictured, top, from left to right: Samantha MacLeod, Ben Egnal, Jenn Siripong. Bottom from left to right: Andrew Succi, Jen Nicholson, Trish Convery, Morgan Todd

No Fixed Address has increased its headcount once again with seven new hires, including four new leads.

Leading the hires is Jenn Siripong as head of digital and Andrew Succi as head of UX. Both had senior roles at Nurun (Siripong was head of experience intelligence and Succi the lead UX architect) before leaving in August. Siripong joined Nurun in late 2014 after more than six years at Publicis Modem – following Publicis' acquisition of Nurun – and Succi in 2013 after stints at RealDecoy and Electronic Arts.

Siripong will lead No Fixed Address' digital team, working closely with digital transformation lead Jenna Yim to "deliver on the full spectrum of digital," a priority for the agency.

"The digital world has provided us with all the tools we need to create a foundation that is deeply rooted in science – whether through data analytics, micro-targeting or precise effectiveness measurement. Once we have that in place, we are free to open up all the creative possibilities," said Dave Lafond, No Fixed Address' president and co-founder.

The agency has also hired Jennifer Nicholson as creative content lead. Another Nurun veteran, Nicholson was with Publicis and Nurun for nearly 14 years as a copywriter and content creator.

Nurun has been a frequent source of digital talent for the young agency, with technology and innovation lead Craig MacKenzie and director of the project management office Hasiya Au-Yeung among nine new hires the agency made earlier this year (Au-Yeung has since left the agency for a role at Telus Health).

To fill Au-Yeung's previous position, the agency has hired Trisha Convery as its new project management lead. Convery joins from Klick, where she was a program director, and has also had roles at Lollipop, Lush Concepts and Twist Image.

Other new additions at No Fixed Address include art director Ben Egnal (who joins from Engagement Labs), communications strategist Morgan Todd (from Citizen Relations) and account executive Samantha MacLeod.

No Fixed Address' head count has now grown to over 40 people since launching at the end of 2016. In the spring, it also brought on Wendy Morgado to lead the account team as head of client integration. In January, it added J.P. Wiser's to a client roster that also includes Questrade, Cybertip.ca, Disney, Canadian Centre for Child Protection and radio station Boom 97.3 (work that landed the agency on the Design shortlist at Cannes last week).