Making TV mass again
Managing editor Jennifer Horn on fall TV's nostalgic wave.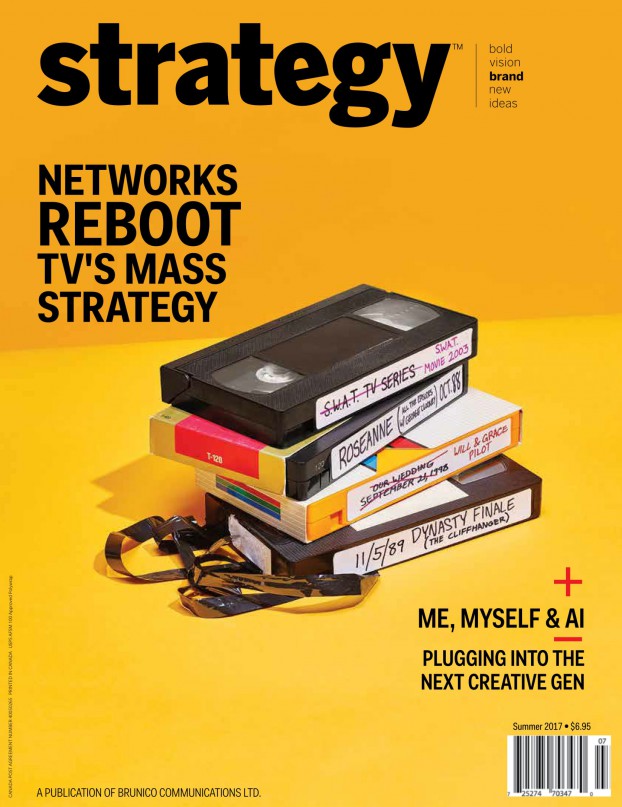 This letter from our managing editor appears in the Summer 2017 of strategy.

I'm going to hazard a (sort of calculated) guess that the 1990s are responsible for about two-thirds of "background" shows. This is partly based on a quick scan of a Reddit forum titled, "Those who fall asleep with the TV/Netflix on: what do you like to watch at bedtime?" But I also bring some personal experience to bear on the matter.

To this day, my little sister will use the hyperbolic pronouncements of Will, Grace, Jack and (ironically) Karen to help her slip into REM. My partner's brother frequently PVRs Married with Children and Simpsons episodes for any meals he spends in front of the TV. I even know someone who learned how to speak English via Friends reruns before emigrating from China. True story.

It's no surprise, then, that there's been a "reboot fever" coursing through network veins for the past couple years. Our cover subjects Will & Grace, Roseanne, S.W.A.T and Dynasty are being resurrected for the 2017 fall schedule, adding to the recycling pile that already includes Netflix's Gilmore Girls and Fuller House, and Showtime's Twin Peaks.

These cultural relics are vestiges of a simpler time for many millennials (and to some outside the demo). And I can confirm that reruns of easy-viewing sitcoms I watched growing up are comforting. I used to spend nights watching Friends DVDs someone gave me when I first came to Canada, alone and afraid, a decade after its final run.

Johanna Faigelman at Human Branding told me these shows, which we approach with a certain wistfulness, hold a kind of "groundedness and simplicity" that resonates during a time of uncertainty, complexity, and crisis. The group after millennials – gen Z – are also "over-scheduled and over-stressed," she says. "Even for them there would be an appeal, where there isn't a level of nostalgia but there is that notion of simpler times."

But there's more to these shows than appealing to a cord-cutting cohort's nostalgia. For Canadian networks like Corus, which picked up two of the four remakes, it's a play to make TV mass again. The network's Barbara Williams told Media in Canada editor Val Maloney at this year's upfront that conventional was in an identity crisis. Part of the network's comeback strategy is to use "big brands that people are familiar with," which have a multi-generational appeal and play to conventional TV's strengths – to be "big, broad, popular."

This also means shows don't have to be novels. The networks are focusing on fewer heavily serialized shows, and instead are opting for less complex storylines like CTV's procedural drama The Good Doctor and City's sci-fi comedy The Orville to help them differentiate from specialty – which conventional has been emulating as it tried to find itself amidst the segmented confusion, Williams admitted. Because, in the end, a clearer focus for networks (with a wider audience) means a more attractive option for advertisers.

So while the current golden age of television is creating a bit of a content bubble – with an explosion of scripted television creating a saturation of shows, and only so many primetime-viewing hours in a day – it makes sense to resurrect shows with loyal viewers. Some of us are already using them as bed mates, after all.