Public Mobile shows what it doesn't have to offer
The wireless carrier's first major brand campaign aims for transparency to target frugal-by-choice consumers.
"Frugal" has been used in the past as a euphemism for people who are straight up cheap. But the ability to find and capitalize on deals is now being worn as a badge of honour – an insight Public Mobile has tapped into for its first major brand campaign.
The carrier is serving up straight talk in its new campaign, led by Cossette. "Less for Less" is a play on the brand's minimal advertising budget (minimal when compared to the big telcos like Rogers, Bell and its own parent company's flagship brand Telus).
To show off how it would rather use its money to save customers' cash, versus spending on slick ads, the brand has used a series of audition tapes – complete with absurd scenarios – in lieu of filming and producing new creative.
Alongside the videos, running online through August, is a nine-week out-of-home campaign with copy centred on all the things Public doesn't have to offer, like call centres or flashy retail locations.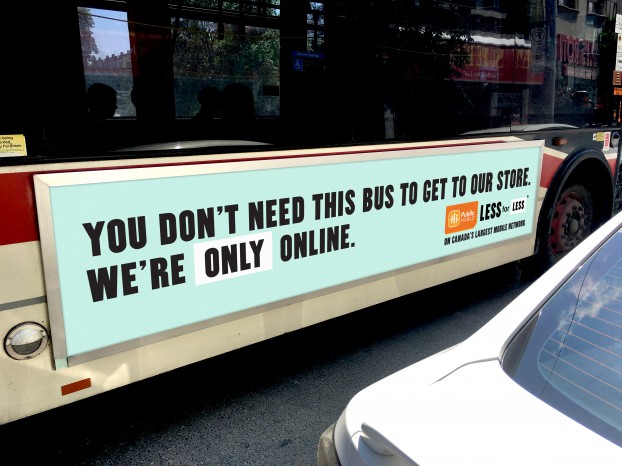 "We're really talking in a straightforward, open and sort of scrappy, provocative way," says David Maclean, head of Public Mobile. He says Public's focus on showing what it doesn't offer is a way of turning what were traditionally weaknesses (like a lack of call centre) into strengths for customers seeking simple, do-it-yourself options above all else.

Public has typically focused its marketing spend on digital and social media – such as its "#SIMSwap" campaign encouraging users to trade junk for a SIM card – with some influencer work.

The larger, overarching brand campaign comes as other lower-cost carriers are evolving their own marketing. Fellow Telus-owned brand Koodoo has been building on its "Choose Happy" platform, while late last year, Wind Mobile rebranded to Freedom Mobile, introducing a new look and new marketing featuring a singing bear mascot.