Gay Lea keeps it plain to find more cottage cheese fans
After finding success with flavoured snacks, Nordica Smooth is trying to expand its market yet again.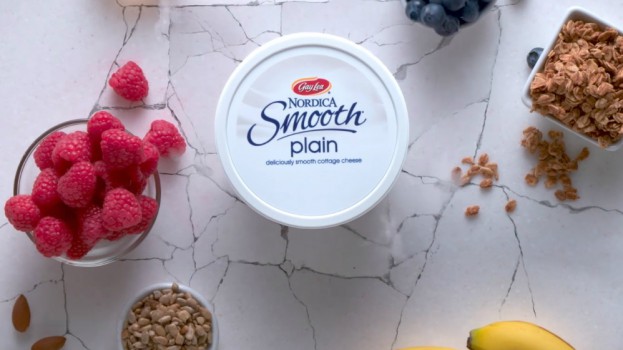 Gay Lea's Nordica brand is making things a little more plain after the successful launch of its smooth cottage cheese snacks.

Its new product SKU, Nordica Smooth Plain, has hit the market with a promotional campaign by Agency 59 designed to drive trial and consideration.

Nordica Smooth was an attempt in 2015 to get people on board with cottage cheese, which the company found many people avoided for its lumpy texture. Sold in individual snack servings with flavours such as salted caramel, Smooth did away with the chewy bits. Gay Lea promoted its new venture with a campaign that played up the small serving size as a good snack option with the tagline "All it takes is one tiny taste."

Even though the snacks competed for consideration against the hyper-competitive yogurt market and was only available in Ontario, the product sold 20% over Gay Lea's targets and expanded the overall cottage cheese market by more than 4% in terms of household penetration.

According to Robert London, however, the snacks missed a portion of the consumer market. The senior product manager at Gay Lea Foods says retailers and consumers alike immediately began asking for an unflavoured product.

"People liked the fact that it had no lumps but did have all the health benefits of the cottage cheese, but with Plain the consumer can do what the want with it," London says. "They can add berries, honey or use it in smoothies. It's more of a base version."

The size of the Plain SKU is larger at 450g to cater to those who cook with cottage cheese.

A new campaign for the product steps away from the "small" tagline to focus on those health benefits – namely its relatively high protein content. Online video ads shows the bigger package sitting next to those add-in ingredients, breaking through refrigerator shelves and cracking counter tops with the tagline "Packed with protein."

"We know protein is on trend, and we know consumers of all ages are looking for high-protein food with low fat and sugar content," London says.

The campaign is largely an online display and video play with experiential support in-store.

Gay Lea is also currently exploring markets beyond Ontario for its flavoured Smooth products.