American cult beauty brand Glossier launches in Canada
The brand built on Instagram and peer-to-peer recommendations has come north.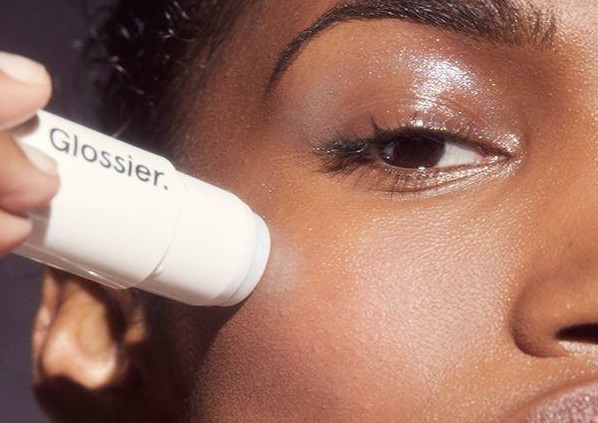 Beauty buffs of the great white north are rejoicing at the news that American beauty brand Glossier has launched in Canada. Prior to Tuesday, the buzzy online retailer's products were only available to those living in the U.S., unless fans were lucky enough to visit its singular showroom in New York City. The Canadian launch will soon be followed by debuts in the U.K. and France as part of an international expansion strategy.
Founded in 2014, Glossier has a unique origin story as a brand created by an online community. Founder Emily Weiss – as well known within the beauty industry as she is among Silicon Valley types for having raised more than $34 million in venture capital for the beauty brand – has consistently consulted the readership of her successful blog Into The Gloss (ITG) to develop the Glossier products.
With two million unique visitors every month and an editorial team stacked with product knowledge, Weiss was able to canvass the ITG community to see what was missing from existing makeup and skincare brands before creating her own.
"We had, in the comments section, all these women saying, 'I really like this,' or 'Hey, do you have recommendations for this?'" recounts Brittany Ricca, Glossier's experiential marketing manager. "You have all of this really interesting customer data, and anecdotes on what people want – and then Glossier was the physical manifestation of that commentary."
The physical manifestation has been particularly important to the Glossier story. With a signature light pink hue (search #glossierpink on any social media site to find a slew of user-generated posts about the colour), and a penchant for clean, white packaging, Glossier products have been designed to look enticing both on a bathroom shelf and, more importantly, online.
Instagram has become a particularly important platform for the brand to reach consumers, with its number of followers nearly doubling in the past six months. Featured in dreamy, minimalist photoshoots that speak to a millennial design aesthetic, "the products themselves become content," says Ricca. It's all made to be shared, tested and recommended online among the brand's growing fan base.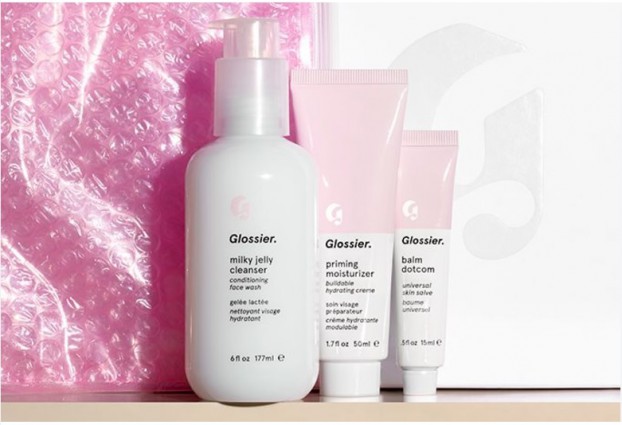 "The [Glossier] product and how you look at it… It's made for Instagram, it's made to take photos," adds Ricca. "It's a way of creating content and sparking conversation in a different way."

Into The Gloss now functions as the "editorial arm" of Glossier, merging the blog and the brand's communities to support a growing business (which achieved 600% growth year-over-year in 2016). ITG's online readership and feedback has contributed directly to the creation of Glossier products, and their tendency to sell out quickly. The Glossier face cleanser, made available in 2016, was the result of a year of asking ITG community members to describe their "dream face wash," (it's now one of the brand's most popular products). After receiving over 1,000 reader comments on a post regarding the development of a winter-friendly moisturizer, it too was released and has become part of Glossier's permanent collection.

Glossier states that 70% of its sales and traffic come from organic and peer-to-peer referral sources.

"Peer-to-peer recommendation is really what fuels our brand," says Ricca. "We would all rather have someone discover Glossier through a friend than an ad on Google… So if it takes longer for someone to hear about it, that's okay, because that means we're doing our job to build [a] community."

Glossier now ships to nearly all Canadian provinces, minus Quebec (although it did establish its first international office in Montreal). The brand says it needs more time to develop its platform and operations for French-speaking customers, and plans to launch in both France and Quebec in 2018.

"We're approaching international very humbly," notes Ricca, noting that the brand is hoping to build a community in Canada similar to the one it has in the U.S. "Especially because we're coming from the States, we need our community. We need everyone here to advise [us] on what makes sense."

The PR agency selected to oversee Glossier's Canadian launch is Toronto's Devon Consulting.