Aldo 'hearts' individuality
The fashion retailer turns to influencers and their passions for its global fall campaign.
Aldo is being more open about positioning itself as a brand that celebrates individuality in this year's global fall campaign.
The retailer engaged almost a dozen different influencers from a diverse range of backgrounds, interests and styles, including DJs, artists, singers, actors and models. Before they were featured in the creative for the campaign, Aldo asked them what they were passionate about and what made them feel confident. Those conversations were translated into a range of different "I heart" taglines that appear on the creative, such as "I heart living it up" and "I heart all eyes on me."
The campaign will be live across all platforms on Thursday and includes print, online, mobile, in-store, out-of-home and social ads, with more content rolling out over the next three months.
Aldo worked with Moving Image and Content in New York and creative director Donald Schneider on the campaign. EGPR is handling PR in Canada after being selected as Aldo's new agency partner in the spring, with BPCM handling PR in the U.S. and U.K.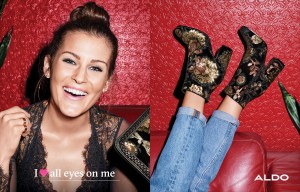 Aldo is looking to reach a fashion-forward forward customer, and Catherine Sabourin, global director of content development at Aldo, says the brand has been doing much more consumer-focused research to find out what that group's mindset is, what they are passionate about and what they respond to. She says the brand has always seen itself as an individualistic brand internally, but doing more focus groups and tapping more frequently in to smaller communities has given the brand the knowledge base and the confidence in what it is saying to express it more outwardly.

"I don't think it's the first time we've done a campaign that's about different kinds of people, but it is the first time we're trying to hone in the language to really focus on it," she says. "We're all very aware that there's so much competition [in fashion retail], so what can we do as a brand to be on the same level as our consumer and really create something they can engage with on more of an emotional level than a functional one."

Aldo has worked with influencers and other creative personalities in the past, but Sabourin says they are much more front and centre in this campaign because they offer a good mix of being recognizable and relatable.

"The consumer wants to see themselves in the campaign," Sabourin says. "They still want it to feel aspirational, to a degree, but it also has to be relatable. We're seeing that more and more. It's not only casting a group of real people that represent our consumer, but they each have a personality and a story to tell that we wanted to embody."

Earlier this year, Aldo had begun using the hashtag "#AldoCrew" on its social content, a concept that is meant to engage both everyday shoppers and influencers around the brand and its fashion, and the "I heart" campaign brings both the hashtag and the concept behind it to a traditional mass market campaign.

"It's a…thread we want to run through everything," Sabourin says. "It's something we feel is an invitation for everyone to join."