Staples goes hands-on for back-to-school
The retailer used an interactive pop-up to highlight its expertise and new products during its busiest time of the year.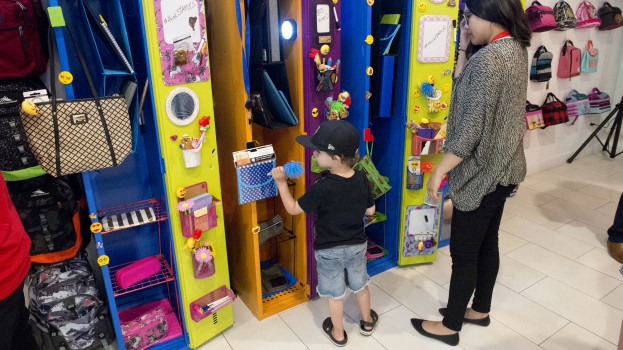 Staples Canada has prepped people for back-to-school with an interactive pop-up that brought the focus to the expertise it can offer and the products shoppers might overlook during this time of year.

Beginning on July 21 and ending yesterday, the Staples Pro Lounge was a pop-up used demos, displays, VR and other interactive elements to highlight the retailer's key back-to-school products, as well as services offered through Staples Print. The space, located in downtown Toronto, featured different areas that cater to different settings and target markets for the back-to-school season – namely parents, students and teachers. A classroom setting featured in-class products, a row of lockers and a dorm room each featured different organizational products and decorations for students of different ages and a tech corner featuring computers, work areas and gaming products. All of the areas featured different workshops and demos, ranging from tech tutorials and how to make a positive environmental impact during the school year to how to make slime.

Michelle Janzso, senior communications specialist, social media at Staples Canada, says part of the inspiration behind the lounge was to bring its new, global "It's Pro Time" brand positioning and the emphasis on providing expertise to life. She says back-to-school was an appropriate time to do that, as its a time when many consumers – especially parents – are looking for resources and advice. But it's also a way to show off its key products in a more direct way, especially when it comes to ones consumers don't typically associate with Staples or the back-to-school season.

"We have over 250,000 SKUs online, and there are product categories and more fun products people don't really think of Staples for," Janzso says. "We thought settings like a dorm could be an aspirational way to get people thinking about situations where these products make sense for themselves. We bring in a ton of new products and have a lot of opportunities to provide expertise this time of year, but that doesn't always come across when you walk into a store setting, because there's so much stuff out there."

Staples promoted the Pro Lounge on Facebook with influencer-hosted videos, live streams and 360-degree videos that explored the space. Janzso says that – in addition to giving the retailer the ability to broadcast the lounge to people outside of Toronto – turning to Facebook Live and using 360-degree videos is part of an ongoing effort to test and experiment with the new ways social channels give the retailer to reach an audience.