Check it out: What keeps a frog from exploding?
The Ecomuseum Zoo fills the streets of Montreal with surprising facts about the animals it looks after.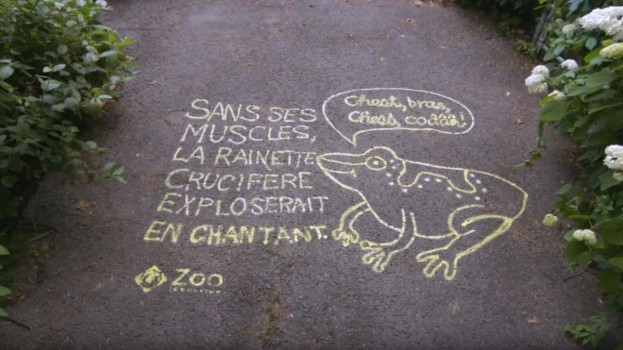 A campaign has been trying to get kids and families to visit Montreal's Ecomuseum Zoo by giving them facts they might not have known about animals that could be right in their backyard.

The Ecomuseum Zoo is a non-profit, outdoor zoo that houses over 100 different species of animals native to Quebec. In an 11 hectare park in Montreal, the zoo takes in animals that are orphaned, injured or born in professional settings and can't be returned to the wild.

As part of a campaign that began in May and is running until the end of the summer, streets and alleys in Montreal's Rosemont neighbourhood were decorated with surprising, little-known facts about animals that could be found in and around Quebec – as well as at the Ecomuseum. The facts include things like otters can stay underwater for seven minutes, black bears eat over 15,000 calories a day or that certain species of frog have muscles that keep them from exploding when they sing. The campaign has been targeting families looking for summer activities to do with their children.

DDB Canada's Montreal office led creative and media strategy for the campaign after winning a review for the project in the spring. It also includes creative on social channels and transit ads in Montreal.