EBay announces visual search tools
The site aims to "make the entire internet shoppable" by letting users search 1.1 billion listings using image recognition.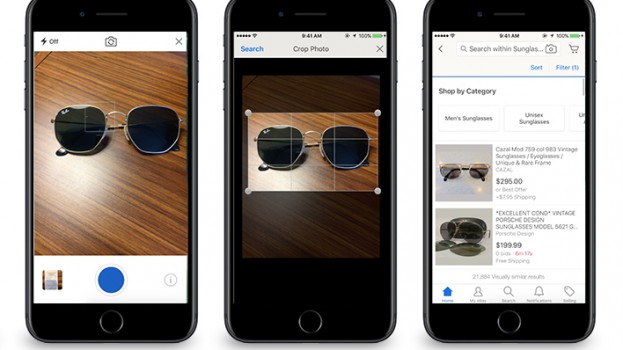 Visual search will finally come to all of eBay's 1.1 billion listings following the announcement of a pair of AI-powered image recognition tools that will allow users to search for items similar to photos they've taken or found online.

Image Search will allow users to take a photo of any item (or use one already saved to their mobile device) and enter it into the search bar on an eBay app, which will then search all of its listings to find matching or visually similar products.

The second tool, Find It On eBay, will take a similar approach, except with images and photos users find on websites or social media. Users can "share" an image they find with the eBay app or mobile site (the same way they would share it with any other social network) to search listings.

Both tools are expected to roll out this fall. The announcement follows eBay's acquisition of visual search company Corrigon, which was completed in October.

The company began its first foray into visual search with Corrigon's tech shortly after the acquisition with "eBay Collective," a curated collection of furniture that allowed users to search listings for items found in photos, though they had to be the photos eBay had compiled for the collection. The company also launched its first Messenger bot around the same time that included some visual search functions.

EBay is hardly the first site to offer visual search, with established sites (including Pinterest, Google and Amazon), retailers and startups having already entered the space. But in a statement, Mohan Patt, VP of buyer experience at eBay, said the company was at a "technological advantage" when it came to visual search due to the fact that it already compiled an extensive collection of user-generated images and commerce data sets over the last 20 years to build its platform from. And the fact that they are AI-powered means the tools will become more accurate and effective the more they are used by the site's 171 million active buyers across the globe.