Facebook launches M in Canada
The company's AI assistant is now learning which suggestions it can make to best enhance conversations within Messenger.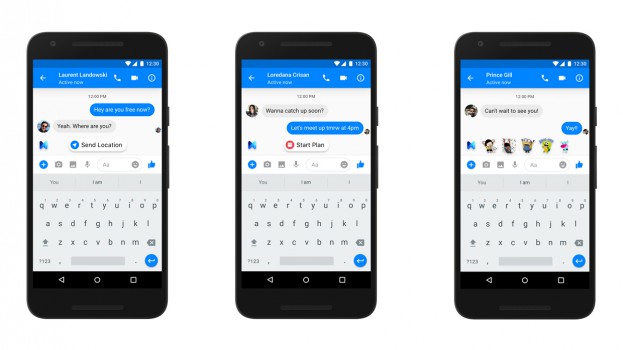 Facebook has brought its AI-powered personal assistant M to Canadian users, though it might take some time before it knows the best times to reveal itself.
Launched in Canada on Tuesday, M Suggestions lives in the company's Messenger service, using its AI to recognize what is being discussed in conversations and make appropriate suggestions.
For example, if someone asks you where you are, M will suggest that you share your current geolocation with them. If it detects that a group is having a hard time making a planning decision, it will suggest you make a poll for the group. On the lighter side, if you are chatting with someone on their birthday and you haven't wished them happy birthday yet, M will suggest multiple ways to do so.
Canadian users now have the same range of functions as users in the U.S. except for those provided by third parties, such as the ability to send payments, call for a ride with Uber or Lyft or get suggestions for recipes from the Food Network. Kemal El Moujahid, product manager for Messenger at Facebook, says the company is looking at ways to bring third-party services to Canadian users.
Many of the things M suggests already exist withing the Messenger platform, but El Moujahid says many users either don't know or forget about them during a conversation. And it actually takes a very capable AI to know when to remind someone or which things they want to be reminded of.
"One thing we're really proud of is how much it learns," he says. "The first few times, it's going to test suggestions, but from there it will learn if you actually like to do something, like send stickers, and if it should be prompting you more."
M first rolled out to a small number of users in 2015 as a direct, one-on-one personal assistant in the style of Apple's Siri or Amazon's Alexa that could be accessed in a conversation through Messenger. It would handle as much of a request as possible before sending it to a human staffer when it got stumped. The staffer would then "teach" the AI the proper way to handle the request so it would know for next time.
But that version of M was too costly to scale to the billions of global active users on Messenger, especially when many requests are still being sent to human staff. So, the April launch of Suggestions in the U.S. was a way to bring the features that proved reliable during tests to a wider audience. And having M make proactive suggestions, instead of taking requests, eliminates the possibility of receiving a request it can't handle.
Earlier this month, Facebook acquired Ozlo, a company focused on conversational AI that has obvious applications for services like M.