Tokyo Smoke heads west
The cannabis retailer partners with a Saskatchewan-based hospitality company to expand ahead of full legalization.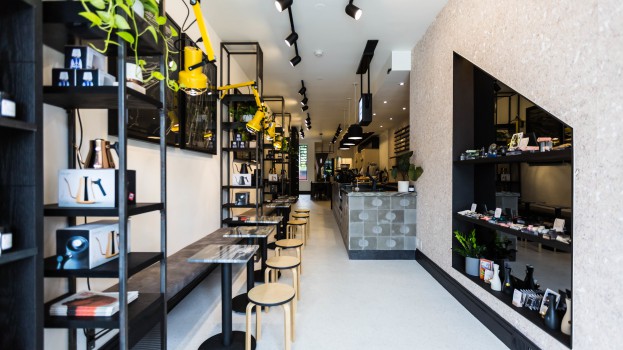 Pictured: Tokyo Smoke's flagship retail location in Toronto. Photo by Kayla Rocca.
Ahead of recreational cannabis' nationwide legalization, Toronto-based Tokyo Smoke is heading west, expanding its retail and coffee shops to the Prairie provinces.
The brand, which already has three Toronto locations, has announced plans for six new retail spots in the Prairies set to open over the next two years. The first will be in downtown Calgary this October, with the additional locations to open in Alberta, Saskatchewan and Manitoba.
To open the new locations, Tokyo Smoke has partnered with Saskatchewan-based Leo's Hospitality Management Group and has received backing from Green Acre Capital and York Plains Investment. In its release, Tokyo Smoke said that Leo's, which owns and operates Regina's Victoria's Tavern and Leopold's Tavern (which has locations in Regina, Saskatoon and soon, Calgary), will provide "local market insight and on-the-ground operational oversight."
Each of the new locations will be designed by DesignAgency and will have a similar aesthetic to Tokyo Smoke's Queen Street flagship in Toronto. However, they'll also be customized with "locally tailored design," including work from local artists.
The westward growth is the first phase of a larger national expansion plan, according to a statement from the brand.
Along with the new locations in the Prairie provinces, the retailer has plans for three new locations in Ontario – two in Toronto and one in Hamilton – set to open later this year.