Check it out: Bidding for back-to-school dollars
Best Buy and Staples court students and parents as seasonal spending in-store and online is expected to increase.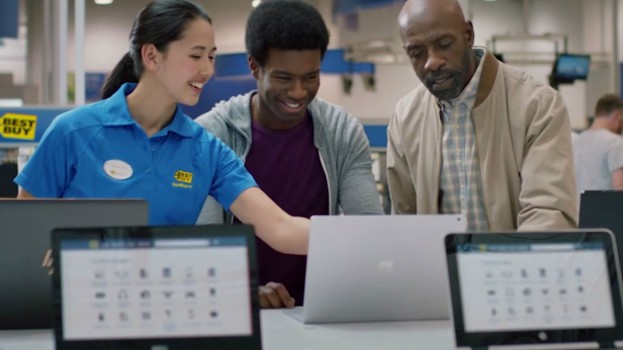 Two of Canada's biggest school supply retailers have launched back-to-school campaigns with savings and technology at the forefront, but with distinctly different audiences in mind.
Best Buy's offering, called "Make Me Proud," features a father and son using tablets and laptops to prepare for the coming college semester. Moving from in-store to the home to the campus, the work from Toronto agency Union shows how technology can prepare a new university student.
The spot concludes with a super that says "This year, there's an upgrade for everyone" as a VO promises Best Buy will beat competitors' pricing.
Staples, meanwhile, has put its U.S. work in-market in Canada, bringing its "It's Pro Time" platform north. Focusing more on parents of elementary school students – showing a few star-crossed crushes and a bow tie-wearing class presidential nominee – Staples likewise focuses on price and technology (specifically advertising a reduced-price laptop). That brand's marketing is centred on encouraging parents, kids and teachers to "Go back to school like a pro," supporting its campaign through mass channels, including TV, radio, digital, print and flyers, along with having a pop-up Pro Lounge in Toronto. McCann Canada led the adapted TV creative, with Pirate Radio on the radio portion of the campaign.
An consumer survey conducted by Ebates in July reported Canadians are likely to spend more when back-to-school shopping this year, on average – $183 per child, up from $155 in 2014.
The survey, conducted online among 1,004 Canadians (accurate to +/-3 percentage points, 19 times out of 20), found supplies remain the largest item on student shopping lists (85%), and electronics fell well below at 24%. Additionally, 67% of shoppers said they planned to look for back-to-school supplies online this year, up from 31% in 2014.