CPG spending cuts hit WPP's financials
The first half of 2017 brought sales and revenue bumps for the ad world's largest holding company.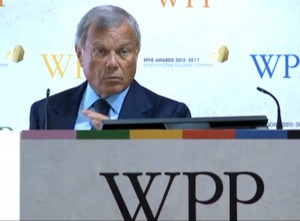 Net sales for agency holding company WPP decreased in the first half of 2017 and the second half faces a "weak start," according to its CEO Sir Martin Sorrell (right). During the company's quarterly financial presentation Wednesday, the U.K.-based holding company reported a 0.5% drop in net sales for the first six months of the year.

July has already seen a 2.6% decline in net sales compared to 2016, and organic revenue declined 4.1% in the month.

While the company pointed to several market factors taking their toll (including uncertain regulation in the U.S. under President Trump and slowing sales growth in major markets such as Russia, China and Brazil), Sorrell also pointed to reduced spending from CPG clients – which account for roughly a third of WPP agencies' business – as a major issue requiring attention.

Citing published financial results from prominent household goods companies, Sorrell illustrated a trend starting in Q4 of 2016 where product prices increased quarter by quarter (2.1% in Q4 2016, 1.5% in Q1 2017 and 1.3% in the most recent period) but volume sales flattened or declined (0.4% to -0.6% to 0.1% for those same periods, respectively).

"The big warning sign… comes when volumes start to drop. If you have less consumers, less users, that's the beginning of a big problem. So we come back to innovation and branding as being absolutely critical."

However, Sorrell said some CPG clients have indicated they are planning to increase their marketing spend in the second half of the year, but did not go into further details. While he did not specify any CPG clients in his spending analysis, WPP works with several major consumer product companies globally.

WPP's holdings in Canada include J. Walter Thompson, Taxi, Grey Canada and the GroupM network of media agencies. In Canada, its agencies count Unilever, Kraft Heinz, Penzoil, Splenda and Kimberly Clark among their clients.

The holding company cut its net sales growth forecast for the year to 1% or less. Investors, meanwhile, seemed spooked by the declines. WPP shares dropped more than 12% Wednesday following the news.