Tech in Action: KFC traps trainees in a VR escape room
A menacing Colonel Sanders oversees a disturbing virtual version of the QSR's training process.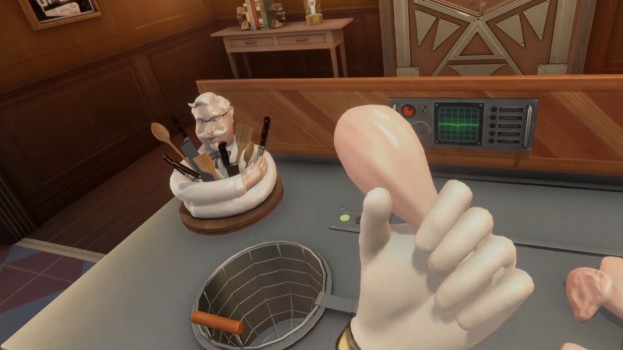 While many brands have been attempting the figure out how to use virtual reality's immersive experiences to reach consumers, the tech is also finding a life in more internal business functions, such as testing new retail concepts without physically building them. Or, if you're KFC, training your new cooks while your founder threatens them with eternal imprisonment.
The VR experience traps new hires in a virtual room they can only escape if they successfully cook a batch of its signature fried chicken, all while a slightly unhinged Colonel Sanders simultaneously encourages and terrorizes you over an intercom. Despite his threats and concerning hatred of robots, the virtual Colonel ultimately wants to ensure you are as detail-oriented as he is during every step, like making sure you visually inspect each piece of chicken before putting it in the rinsing basket or putting each piece in its proper place on the frying rack.
As first reported by Eater, the experience is being added to employee training programs at KFC through Oculus Rift headsets. Bringing certain parts of the training process to VR makes logistical sense: it typically takes a trainee 10 minutes to get through the VR process, compared to nearly half an hour for the same real-life process. It also saves the chain from potentially wasting ingredients when the process is done incorrectly by an inexperienced hand.
As for making it a creepy, Saw-inspired escape room, the motivation there appears to be livening up what might otherwise be a very stale process by adding a little bit of the brand's cheeky tone. Being slightly irreverent and fun-loving is something that KFC has done in some its consumer facing tech executions, whether it was a robotic Colonel Sanders that took drive-through orders, a chicken bucket that took and printed photos or packaging that could be turned into an AR basketball game.