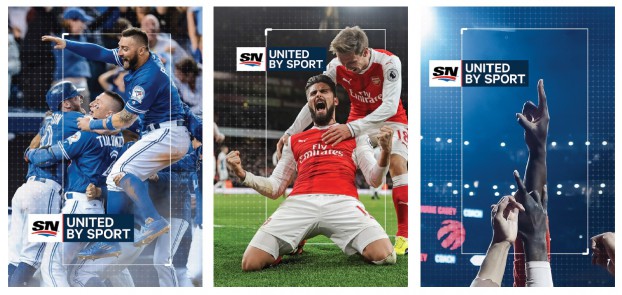 Sportsnet is aiming to rally Canadians to come together with its newest brand campaign.
The new "United By Sport" campaign is centred on Sportsnet's mission to bring Canadians together through sports content, the media brand said in a news release.
Unifying fans isn't a new concept in sports-related marketing – think "#WetheNorth" and the CFL's most recent brand work. But it's definitely a timely one, given what's making news these days, from racist rallies to anti-LGBTQ policies.
"[Sport] transcends gender, age and ethnicity and is what allows us to put aside our differences and just share a moment," Sportsnet president Scott Moore put it in the news release. "This sentiment has never been more relevant."
The "United By Sport" campaign includes a 60-second TV spot and out-of-home media, with the creative featuring sports moments of people (whether fans or teammates) coming together. The campaign also includes radio, digital and social across all Rogers Media channels. It will also be integrated into sports venues nationally through Sportsnet's NHL, NBA and MLB team partnerships.