Why avocados are up Becel's alley
The margarine brand is skewing younger with its latest product launch, particularly with an exclusive Toronto pop-up.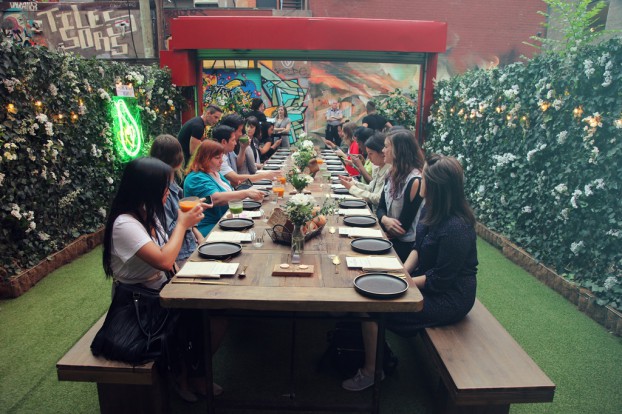 Unilever's Becel brand is trying to tap avocados' popularity among younger consumers, launching a new avocodo-oil based spread as part of its efforts to add new consumers to the overall margarine category.

To support the launch of Becel with Avocado Oil, which hit shelves in Canada in August, the brand has created a millennial-friendly exclusive event in Toronto's Graffiti Alley. The aptly named "Avo Alley" is a collaboration with chef Matt Dean Pettit (known for local restaurant Rock Lobster and Matty's Seafood Brands), who is serving up avocado-infused recipes featuring the new Becel product.

The two-day pop-up launched Thursday and is hosting media and influencers, along with a limited number of seatings for consumers. Those consumers were invited through a geo-targeted Facebook buy seeking out 25 to 35-year-olds with an affinity for healthy eating. The sign-ups also included a partnership with YP Dine, a first for that brand, she says.

The limited, temporary nature of "Avo Alley" was a specific strategy to resonate with millennials, who often like the idea of something being exclusive, says Nicole Fischer, senior brand manager on Becel. The pop-up will be the backdrop for influencer content on social, but the hope is that consumers also share their experiences online.

Avocados have become increasingly popular over the past few years, in part because of a growing trend toward incorporating healthy fats. That said, a recent Becel-commissioned survey also found that half of Canadians don't know how to incorporate the food into their daily meals and recipes.

Becel has been in the Canadian market for nearly 40 years, long positioned next to heart health, Fischer says. While it's the leader in the margarine category with over 50% share, its customer base is also fairly limited to gen X and baby boomers. The Becel with Avocado Oil launch is one strategy to skew younger and keep the margarine category generally on trend, she says. The brand is also positioning itself more as a plant-based product, particularly with the revised Canada Food Guide set to call for Canadians to incorporate more such foods into their diets, Fischer adds.

The Becel with Avocado oil launch is also being supported by a mass campaign, including TV, digital, in-store and out-of-home. The latter is somewhat new for the brand, which has used OOH tactically in the past but not for a mass launch, Fischer says. This time around, it's taking a test and learn approach with that channel.

Becel worked with Edelman on the "Avo Alley" campaign (including earned, digital and creative) and with Mindshare on media. TV and OOH creative was led by Mullen Lowe, with shopper marketing led internally at Unilever.