Why insurance isn't boring, in six seconds
The Insurance Brokers of Canada's new digital campaign gets its message across in a flash.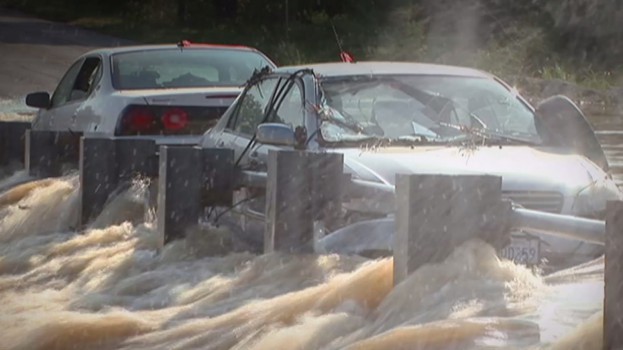 Insurance is boring until it's urgent and desperate and everything is on fire.
That's more or less the message of a new digital campaign by Agency59 for the Insurance Brokers Association of Canada (IBAC). While the campaign uses display ads and video of various lengths, a series of jarring six-second spots forms the centrepiece.
The ads all open with the line "Insurance is boring until" written on a white screen. There's no sound before a quick cut to a car accident, a flood or a house on fire, with sirens and screeching tires and alarms. The white screen then reappears and directs the viewer to IBAC's website, Findabroker.ca.
The spots are meant to leave viewers asking "Did I just see that?" says Brian Howlett, Agency59's CCO.
While the campaign includes a 15-second spot cut down from the 30-second TV ad "Why do so many Canadians use a broker?" released earlier this year, the new spots were written specifically for the short format.
"It really does feel like hit-and-run advertising," Howlett says of the hard cuts separating the spots' three elements. The effect is supposed to be as jarring as an accident to convey the message that these kind of events come out of nowhere.
The spots may be especially effective after a summer of wildfires in Western Canada and the United States and the awful flooding and destruction from tropical storms and hurricanes in the Caribbean and American south. Howlett notes the timing is coincidental, with the creative developed back in June and July.
The mass campaign is targeting a broad audience for the association that represents Canada's 36,000 insurance brokers. Agency59 handled creative and media for the campaign.
The spots are running on YouTube, Facebook, Twitter and on sports network The Score's app.