Rethink Breast Cancer reinvents the hotline
The organization's retro-inspired creative is all about modern education.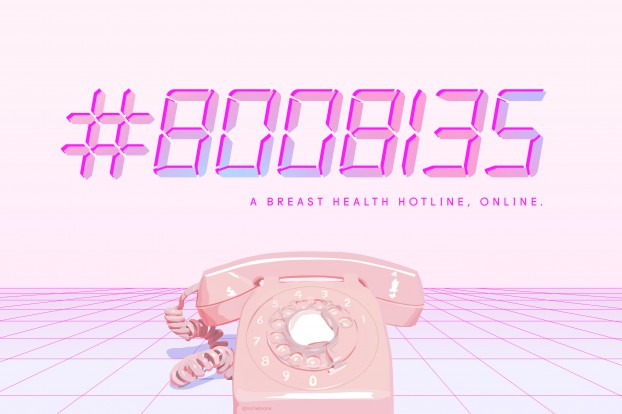 Rethink Breast Cancer is throwing back to a bygone decade to, ironically, drive teens to the most up-to-date information they might need.

The organization has just debuted "8008135," a socially-driven campaign aimed at teen women and focused on busting common myths surrounding breast cancer. (Those of us old enough to recall the pre-smartphone calculator and pager days will remember using those numbers to spell out "BOOBIES.")

At the heart of the Sid Lee-led campaign is a reinvented "hotline" in the form of a chatbot, created by TWG for Facebook Messenger. It's specifically centred on answering 20 common questions around breast cancer and gamifying the educational experience by serving up quizzes with quirky gifs.

There are a multitude of breast cancer awareness plays, especially in October, when "everything from toilet paper to the NFL is pink," says Alison Lawler-Dean, VP, marketing and communications with Rethink Breast Cancer.

But the downside of that is that young women often become fearful and misinformed about their risks. The organization wanted to target teens after anecdotal conversations were showing that many young women had a lot of questions around breast cancer and how it might affect their demo in particular, but not much solid understanding, Lawler-Dean says.

The organization's survey of 800 teens across Canada and the U.S. conducted earlier this year confirmed some of that thinking, with 81% of teens overestimating their risk and 75% saying they worry about developing breast cancer. In addition, more than half of teens (57%) had questions around their breasts and breast health and 63% rated their knowledge below a five out of 10.

Women under 20 actually only have a 0.06% chance of being diagnosed with breast cancer, but Lawler-Dean says they often overestimate their risk because of common lifetime stats used by major charities (like "one in eight women will get breast cancer").

So instead of focusing on fear, Rethink Breast Cancer wanted to turn to educating teens about risk factors and developing healthy habits early on.

Along with the throwback "8008135" name, the campaign creative is all 80s-esque, inspired by the idea of the retro hotline. The elements drive to the 8008135 website and chatbot experience, with educational components tied in. The "8008135" website, for example, addresses the role cellphones might play in developing cancer (none) or how underwire bras fit into the equation (they don't cause cancer).

Influencer partnerships are also a key component of "8008135," including in a "Broken Telephone" PSA centred around the concept of misinformation and starring several young influencers, such as actress Peyton List and YouTube star Meghan Hughes.

The campaign also includes experiential, 80s-era phone booths at major events targeting gen Z, like the upcoming Buffer Festival. Inside each phone booth is an iPad with the chatbot, again driving to more information geared at young women.

As a fundraising play, Rethink Breast Cancer also teamed up with H&M, which will sell five t-shirt designs in select stores around Toronto. Each shirt has a tag with more educational info on it, and 100% of the proceeds will go to Rethink.

Rethink Breast Cancer also teamed up with several illustrators to create various visuals being used on its social channels.

Along with Sid Lee and TWG, Rethink Breast Cancer also received in kind support from Astound Group, Scarlett Street Creative Agency, Right Sleeve and Media Experts.