VH builds on its 'victories'
The brand uses purpose-built pre-roll and a Quebec specific strategy to keep boosting sales.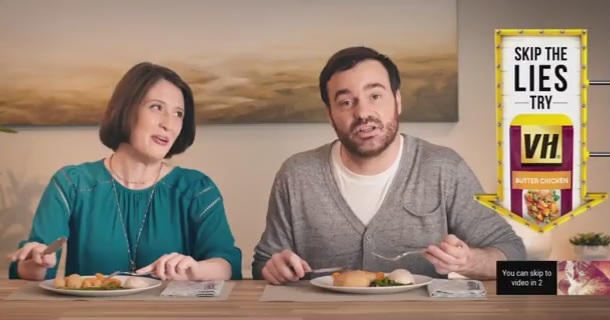 VH Sauces is turning to new digital tactics and a Quebec-specific shopper and influencer strategy to build on momentum gained through last year's mass campaign.

The Conagra brand first debuted its "Clean Plate Victory" campaign last year, an awareness play targeted at parents and focused on the dinnertime battle many of them face with their picky kids. The campaign proved successful, helping boost dollar volume 6% and market share one point over the 12 weeks it ran, says Ryan Fowler, senior brand manager at Conagra Canada. The campaign also helped deliver on the goals VH set out, including brand recall, he says.

Now, it wants to go beyond the TV buy with a more robust campaign.

In part, that means a more focused strategy in Quebec. The VH brand has a strong legacy in that market and "Clean Plate Victory" did help restore penetration. But with little flavour innovation of late, it's also been a bit stale and needs to now be considered more modern with shoppers there, Fowler says. To do that, it's turned to an influencer strategy, partnering with 16 social media influencers on roughly 80 different pieces of content, including videos, recipes and cinemagraphs.

VH is also running two retailer-specific programs using popular Quebec celebrities (TV host Alexandra Diaz with IGA and chef Danny St-Pierre with Metro). Along with cooking show integrations, the influencers will be part of VH's social content strategy to drive more relevance in the province.

At the national level, the brand wanted to capture the same comedic essence as the original "Clean Plate Victory" campaign, this time with digital. Working with agency Arrivals + Departures, it created a new pre-roll campaign, with ads purpose-built for the "skip ad" and "mute" buttons for YouTube and Facebook, respectively. The creative itself is focused on the things consumers can "skip" if they use VH: namely, drama (with kids) and lies (from adults who think a meal is lacklustre but won't come clean about it).

Like last fall's marketing investments, this year's digital work speaks to both parents and millennials (one of VH's 2016 campaigns was "Less Commitment," a playful take on its smaller packaging aimed at one to two-person households).