2017 Brands of the Year: Rethink rejigs the non-profit model
Up next: continental expansion and tween outreach.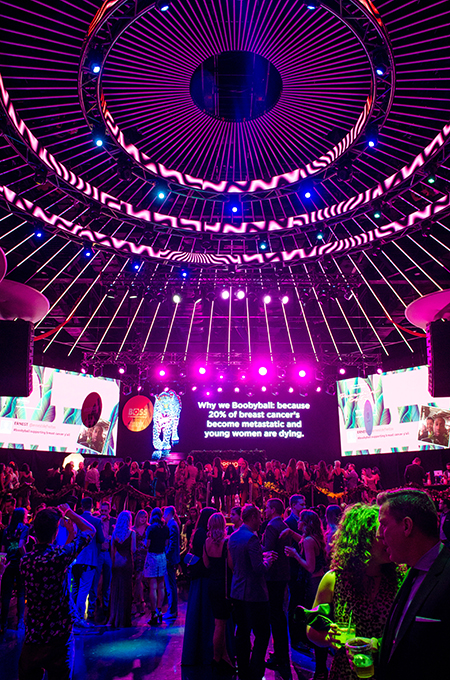 This article appears in the October 2017 issue of strategy.
We're rolling out our 2017 Brands of the Year. Here, read about how Nissan is standing out in the competitive SUV category, how A&W is adapting to meet millennial wants and how SAQ is making things personal with its CRM strategy. Be sure to check back later this week for the stories behind some of this year's standout brands.
Rethink Breast Cancer has always punched above its weight. But it hasn't been easy.
The Toronto non-profit is challenged in a category replete with equally worthy causes, each competing for the same donor coin. Not only that, it also has to carve a share of voice within the dominant "pink" cause sphere – charities and brands raising money for breast cancer – to reach women under 40 (a very small percentage of the breast cancer population).
Despite having a staff of only 11, Rethink has seen steady growth in its fundraising activities, last year netting $2.9 million in donations, up from $2 million in 2015 and $1.8 million in 2014. (For comparison, the Canadian Cancer Society pulled in more than $270 million, though that's been on a steady decline year-over-year since 2011).
In fact, Rethink, founded in 2001, is so small that the organization has never been able to pay for brand tracking, says Alison Lawler-Dean, Rethink's VP marketing and communication. It only started buying media this year. "And we're talking, like, a couple thousand dollars [for ad spend]," she says.
Rethink has grown using edgy humour, like its mega-successful Your Man Reminder app (by John St.) with sexy shirtless men reminding women to perform self-examinations.
But in late 2016, it went a little deeper (without compromising its cheeky tone) to connect in a more thoughtful way with a product line that gave breast cancer patients and survivors a voice.
The Give-A-Care product line – which acts as both a revenue generator and a way of providing support – has picked up numerous awards, including a D&AD Graphite Pencil and a pair of Cannes Lions (not to mention a few AToMiC and Shopper Innovation Awards).
Give-A-Care was originally intended as an update to a guide for medical professionals. Only 4% of women diagnosed with breast cancer are under 40 – Rethink's primary target audience. As a result, these women – who typically have a different set of questions for doctors than the majority of cancer patients – are often overlooked, Lawler-Dean says. For example, questions around child bearing and career planning are common, yet they're not usually discussed. That's what the guide was intended to solve.
In focus groups with breast cancer survivors and patients, the brand realized there might be a way of making a bigger splash with marketing efforts, Lawler-Dean says. "The overwhelming feedback was 'Everyone wants to help – they just don't know what to do or say'…and friends and family can get paralyzed by that."
Rethink and Lg2, which donated its time, were inspired to create a product line of gifts (some co-branded with companies including Aveda and H&M) that people could give to help women during treatment. Some products were designed from points in the guide, while others came from feedback women gave about items they wished they had during chemo, such as lemon drops for dry mouth, or moisturizer to keep chemo-battered skin soft.
The products, which range in price from $4 to $100, were given cheeky names: "My-mouth-is-dryer-than-prohibition water bottle" and "I'm-tired-dehydrated-and-cranky-so-don't-give-me-any-of-your lip balm." Designed to look like high-end hygiene products, each comes with a consumer-friendly version of the 10-point guide.
The campaign rolled out on social media with a video featuring real cancer patients talking about the items they wished they'd received. Give-A-Care has sold more than 1,500 products that have travelled as far as Italy, and the non-profit is in early talks to roll the product into retail stores.
Thanks to investment in analytics through a non-profit CRM tracking tool, the brand was able to re-target consumers throughout the year at key times, such as Valentine's Day (when lube and other sexy-time products take centre stage) and the holiday season, with users on social media invited to buy Give-A-Care packages to donate to women in need. More than 400 were purchased, leading to the biggest holiday fundraising push in the brand's history.
Part of the campaign's success, Lawler-Dean says, comes down to its increased international presence.
Since the non-profit's audience is typically younger gen X and older gen Y, Rethink has always had a strong digital presence, she says. And the organization has increasingly found global audiences online, prompting a shift to focus its services more internationally.
Lawler-Dean, who joined in 2014 to help further focus its marketing online, says the evolution was natural, going where the audience can be best served. She points to a 2015 content push that stemmed from the desire to improve its in-person support groups.
The groups in various Canadian cities provide a place for women to speak with other young breast cancer patients and receive advice and planning tools. "A good group for us was 20 women," Lawler-Dean says. Logistical issues – such as child minding or transportation, or even the effects of chemo treatment – prevented many from accessing these groups.
"We took a step back and said, 'If we're there to support them, how do we do that on their terms?'"
Based on the success of some of its online videos, Rethink created a YouTube series – "Live. Laugh. Learn." – tackling five topics related to living with cancer across 25 videos. The brand partnered with Avon (which sponsored the series), as well as publishers like Chatelaine, Flare and Refinery29 to spread the word.

One of the series' most popular videos garnered 32,000 hits on Rethink's YouTube channel (and an additional 50,000 views on Refinery), an almost 1,600% increase in participation from the in-person groups. The brand has since followed it up with series on beauty and talking to kids about breast cancer (children of women with breast cancer narrate the videos).

Almost 50% of the audience views today come from the U.S., Lawler-Dean says, and Rethink has officially changed its mandate to supporting women with breast cancer across North America. Its fundraising (with the exception of the internationally available Give-A-Care line) will still predominantly take place in Canada, but its marketing will push across the continent, as well as potentially expanding events like Boobyball, an annual gala hosted in five Canadian cities.

It is also looking to see how to make Give-A-Care a more permanent part of its fundraising mix, Lawler-Dean says.

In the meantime, Rethink is going after an even younger target audience for the next Breast Cancer Awareness Month. Launching at the end of September, with creative from Sid Lee, the non-profit is embarking on an education effort for teens and tweens.

The campaign addresses some of the misconceptions about breast cancer and flows from a Rethink study that found young girls overestimate their risk of breast cancer.

"Some people worried it was contagious. The Angelina Jolie thing came up [where the actress discovered she carried a gene for aggressive breast cancer], and kids assumed if someone in the family had breast cancer, they would too. There were beliefs that underwire caused breast cancer," Lawler-Dean says. "The opposite effect of the pink movement is that there isn't a lack of awareness of breast cancer, but people still don't know the facts."

Indeed, the goal of the campaign is to educate youth on healthy, long-term breast habits (such as regular check-ups) in a non-threatening way.

To do this, the brand and Sid Lee are launching a "retro" call line. With a launch video inspired by the famous Mean Girls four-split screen scene, youth are encouraged to ask a Facebook chatbot breast cancer questions, with elements pointing them to Rethink's website for more information.

The "#8008132" campaign (that's #BOOBIES, if you type it on a calculator and hold it upside down) will be supported by old-school phone books set up at popular music and cultural festivals, encouraging people to "call in" for more information (and post their selfies). A social media push will also work to drive traffic.

H&M will launch a limited-edition, breast cancer-inspired line of t-shirts, available across marquee stores in North America, with all proceeds going to Rethink.

"Since day one the organization has always stood out as a challenger and making a lot of noise," Lawler-Dean says. "We're this scrappy underdog – we always try and do things a little bit differently. We like to call it the 'Rethink' way."