Pita Pit heats things up with Tabasco
The QSR expands its flavour options as it attempts to "elevate" the in-restaurant experience.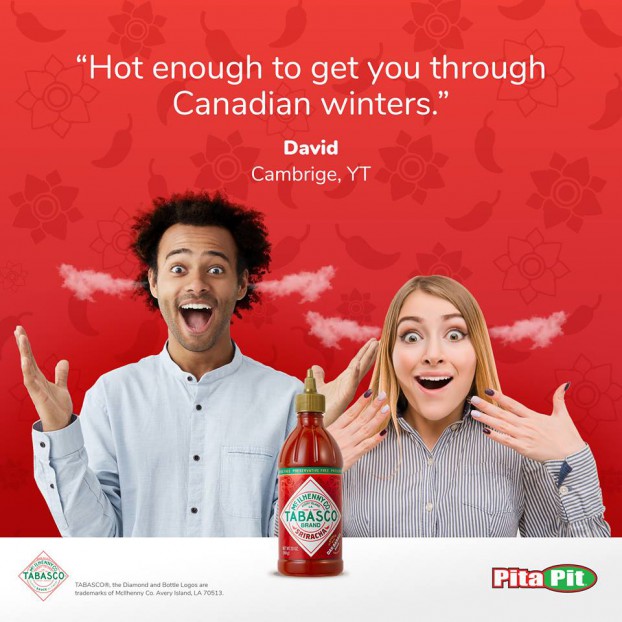 Pita Pit has struck a new partnership with Tabasco to both deliver customers the flavours they are looking for and to elevate its pita-creation process.
As part of the partnership, Pita Pit will be the first place in Canada to carry a new, Sriracha-style sauce from Tabasco that is free from preservatives and made from all natural ingredients.
Brandon Poole, senior director of national marketing at Pita Pit, says the company had actually been pursuing opportunities to work with Tabasco for several years, and bringing a new product to Canada was the opportunity to make the partnership happen. Poole says the partnership is partially about tapping into trends around hotter flavour profile, and the all-natural ingredients in the sauce also fit with Pita Pit's efforts to position itself as a healthier alternative to traditional QSRs.
But the major opportunity is around elevating the customer experience at Pita Pit locations.
"We've taken the angle that customers deserve a better restaurant experience by creating their own flavour combination," Poole says. "Tabasco helps us deliver that because whether its creating content around it or just talking about its story, it elevates the Pita Pit experience. We're not just saying, 'hey, we have a new Sriracha and chicken pita' and creating a media campaign around it. We'd rather talk about how this sauce can elevate the experience of creating your pita and all the options available."
To that end, the new Tabasco Sriracha sauce is a major part of the Creation Nation program Pita Pit is running. Customers can submit their own pita recipes that incorporate Tabasco for the chance to win prize like a trip to Tabasco's headquarters in Avery Island, Louisiana for a foodie experience or winning a bottle of the sauce to take home for themselves.
Poole says "creation nation" has been part of Pita Pit's culture since it was founded, but putting a name to it as part of a formal program helps further elevate the customer experience in its locations by putting the focus on their role in creating their food from ingredient selection to seeing it on the grill.
"It's amplifying the customer's role in creating something great," he says. "We want to work with customers, and with the way content is so key to brands being successful, we think our brand really aligns well with the creation of great content. We have the opportunity to do things like have people tell us about their favourite pita or how they feel about the new sauce."
Both the Tabasco partnership and the contest around it are being promoted with content through social channels, as well as leveraging its franchisee network for in-store materials. The in-store elements include static signage and additional content at locations with digital signage (Poole says Pita Pita is in the process of upgrading all of its locations with digital menu screens, something the company expects to be completed within the next year).