Sports Experts enters the ghost business
The Quebec retailer celebrates its 50th anniversary with a touch of the supernatural.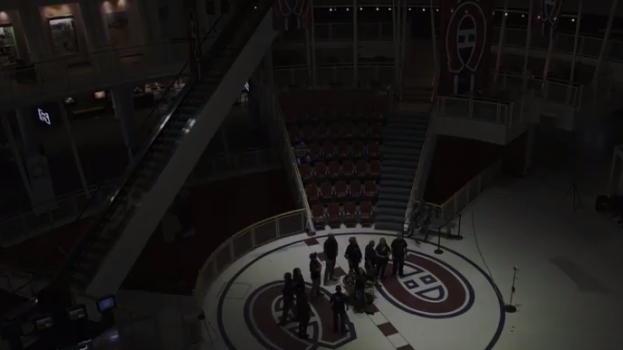 Quebec retailer Sports Experts may have given the Montreal Canadiens a leg up this season.

The FGL Sports-owned retailer is highlighting its annual Habs sponsorship through a documentary and microsite dedicated to the "ghosts" of Montreal's Forum arena. Urban legend has it that the spirits of former Montreal players secretly assisted the home team while playing at the Forum, from 1924 to 1996, helping it earn 22 of its 24 Stanley Cups.

But the ghosts stayed behind when the team transferred to the Bell Centre, originally known as the Molson Centre, in 1996. And the Habs haven't won the cup since.

Working with "paranormal expert" Roger Mainville, a medium and ghost investigator, Sports Experts sought to conjure up the spirits and bring them to the Bell Centre on time for the team's season opener on Oct. 5.

A documentary-style video spot shows Mainville establishing contact with the ghosts using a series of monitors and cameras to detect their presence. The spot includes the "testimony" of sports reporter Bertrand Raymond and of former players-turned-coaches Guy Charbonneau and Mario Tremblay. An interactive website component allows users to explore the Forum and see footage of the investigation for themselves.

The initiative was done as part of Sports Experts' 50th anniversary celebrations. Planning began while the Canadiens were competing in the playoffs last year and the project was launched in September, says Karl Morin, marketing strategy manager at FGL Sports. That it should run through the spooky month of October is a bonus, he says.

Morin says sponsorships make up a big part of the company's marketing strategy. It has been partnering with the Habs since 1999. It also sponsors the Canadian Olympic Committee, under the Canadian Tire Corporation, a number of other initiatives in Quebec.

The project and website, designed by agency Rethink, were intended to be short-lived, he says. But they could have longevity should the team do well this year.

Quebec-based Canidé PR agency handled media and influencer relations.