7-Eleven lures with the Slurpee to sell the salad
The convenience brand sees the benefit in healthier options as consumers demand more variety and transparency.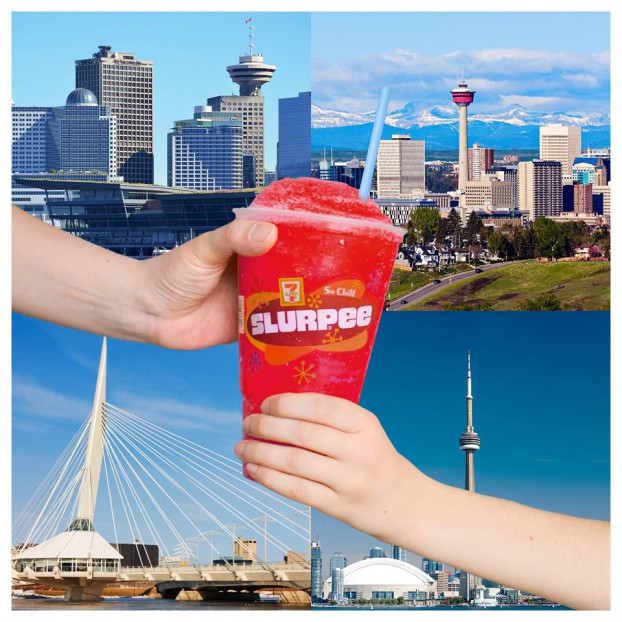 You think of 7-Eleven, you think of Slurpees. Canadians buy into the idea of the icy, sweet fountain drink more than any other market. But while the retailer's media spend tends to focus on the novel new flavours it produces, the Slurpee has become the lure for a broader food menu that's keeping pace with consumers' demand for healthier options.
Doug Rosencrans, VP and general manager for 7-Eleven Canada (pictured, right), calls Canada the Slurpee capital of the world (more Slurpees are sold in Winnipeg than any other city, according to the company's data). So its no shock to see them on, say, a transit campaign.
"That has helped us drive traffic into the stores, where we have an opportunity to showcase what our new offers are that they may not be familiar with," Rosencrans says.
Over the past few years, 7-Eleven has been diversifying the food it sells, now offering fresh-made food and produce, for example. In Canada, fresh foods now account for more than 12% of annual revenues, and it's increasing year-over-year.
The chain is also making efforts to be more transparent with food information. It recently joined the B.C. government's Informed Dining program after its locations in the province made nutritional information available in-store for all its food items.
Making that info available had been an ongoing national effort that started in Ontario when the province updated its calorie disclosure regulations for food sellers in 2016. Rather than limit the change to its Ontario locations, former Canadian VP Raj Kapoor began the process of expanding it to 600 locations nationally.
"Traditional convenience [retail], for a long time, was seen as cigarettes, soda, candy, et cetera," Rosencrans says. "Society has changed their tastes. The business model had to change to meet customer demand… We see [better-for-you] foods as a more sustainable way to grow the business long term."
Health trends have also changed the store's 7Rewards loyalty program. It launched in 2015 as a way to earn free coffee, Slurpees and other select beverages only. In September, that changed to include a far greater array of food and drink items, including healthy grocery foods. Rosencrans is currently readying a marketing program to announce these changes in early 2018.
Featured image via 7-Eleven Canada on Facebook.