ASICS' Canadian marketer brings 'I Move Me' to North America
The apparel brand's first major campaign in 20 years aims for newer, younger consumers.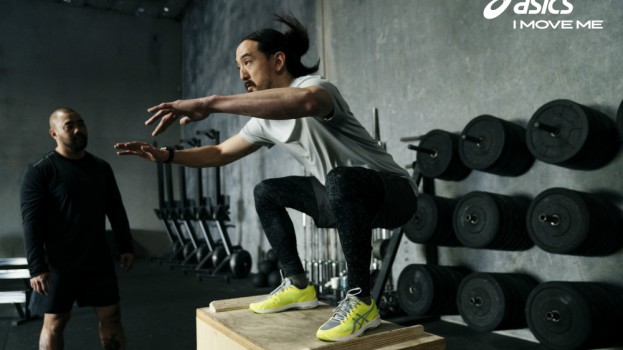 ASICS' new global campaign has landed in North America under the stewardship of a Canadian, its marketing VP for the Americas Sarah Bishop.

The "I Move Me" campaign debuted last week with celebrity DJ and producer Steve Aoki fronting an effort that launched earlier this year in Europe (Saatchi & Saatchi oversees global creative duties). The North and South American campaign's linchpin is a video that features Aoki alongside men and women training, skating, dancing and moving to an original Aoki track.

Aoki was tapped not only because he's a fitness buff but because the brand wants to leverage his prevalence in the music scene as a connection point for a new, younger target market. "I Move Me" is the Japanese brand's largest marketing campaign in "at least 20 years," Bishop says, designed both to "reintroduce ourselves" to those already familiar with the brand in running circles, but also reach out to millennial/Gen Z shoppers.

"This is more than a marketing campaign," Bishop told strategy. "We view this as a platform for the brand to get people moving… ASICS is known for running, but we know younger consumers are engaging in fitness in a multitude of different ways."

Bishop sees her competitors as relying on "external motivators" in their marketing with messages focusing on "being the best, trying to be number-one on the field. We're really not doing that. We're emphasizing the importance of taking care of both mind and body… Consumers don't see a difference between performance and lifestyle."

The majority of the media spend will focus on digital channels, but Bishop is also tapping athletes for macro-level influencer efforts. In Canada, Olympic swimmer Penny Oleksiak will take part in marketing activities. Bishop says more local, "micro-level" influencer activations are in the works.

Bishop has been with ASICS since April, having arrived from Coca-cola as brand manager. She is the solo marketer north of the American border, but manages a team of about 30 based in California.

New York's United Entertainment Group is overseeing the North American execution of "I Move Me" with Mosaic working on the activation front. Bicomm Communications is overseeing Canadian media relations and PR for the work.