An 'easy' way to get recipe tips
Quebec's pork producers use a chatbot to deliver on the convenience message of its new campaign.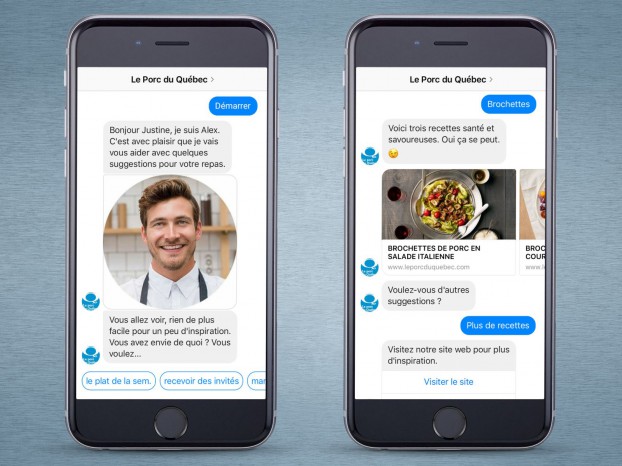 Les Éleveurs de porcs du Québec (Quebec's pork producers) have launched a new chatbot.

After sending a message to Le porc du Quebec on Facebook Messenger, a friendly "virtual chef" named Alex will respond. The bot will provide pork-based recipe ideas for users based on answers to questions and what kind of needs they have, such as a quick meal idea for that day, something that best suits the time of year or something that uses their favourite kind of pork-based food, like ribs or chops.

"We wanted to increase our relevance by providing Quebec consumers with recipes that meet their needs, while insisting on the exemplary quality of the product," Danielle Vaillant, director of marketing for Les Éleveurs de porcs du Québec, said in a press release. "Beyond everyday life, ease is explored from four different angles to enable them to receive, change their surroundings, save time and eat healthy."

Alexandre Jourdain, digital creative director at Lg2, added that the benefit of a chatbot was that it fit more easily into peoples' daily lives, giving them them quick and convenient access to recipe ideas whenever the need struck.

The chatbot execution ties into the message a broader campaign Les Éleveurs de porcs du Québec has launched with agency Lg2, which is focused on showing how easy making a meal from pork products is by comparing it to other tasks like knitting, origami or learning an instrument.