McDonald's gets into the fictional real estate business
The QSR leans on some experiential activations to promote this year's Monopoly contest in Western Canada.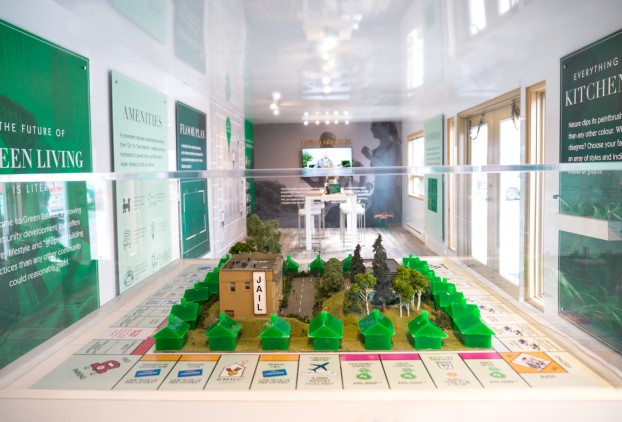 Real estate is one of the hottest topics in Vancouver right now and McDonald's Canada has joined the legions of developers in the city to promote the return of its annual Monopoly contest.
Outside of a McDonald's location in Vancouver, the "Green Estates" presentation centre gave locals a peak at what they could expect if they bought a home built by the "Omnopoly" company. The homes, neighbourhood and amenities on display included everything you might expect to find from the famous green houses on a Monopoly game board, like all-green fixtures, regular train service and free parking.
On top of the "Green Estates" execution – which includes a housing development-style microsite – McDonald's has also turned the sidewalks outside of a handful of restaurants in Edmonton, Saskatoon and Winnipeg into life-sized Monopoly game boards. McDonald's worked with Cossette, OMD and Weber Shandwick on the campaign.
While this year's Monopoly contest is being promoted across Canada through traditional media – including out-of-home, digital and in-restaurant creative – Gavin Stafford, senior marketing manager for McDonald's Canada, says the company tends to try and find ways to utilize more experiential promotions when it comes to Western Canada. That's to not just get people aware of the long-running promotion, but generate excitement and participation.
"Monopoly is a well-known equity with McDonald's Canada and our guests tell us they look forward to it every year," Stafford says. "They know about it, but as we try to continue to expand it's reach and effectiveness and get people aware of the program earlier in its activation, activities like this can reach a broader audience."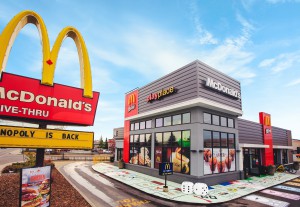 Stafford says Monopoly is particularly well-suited to more outside-the-box ideas, given the fact that it is a game at its core. Past activations have included a "free parking" stunt in 2009, where McDonald's took over parts of downtown parking lots with the recognizeable square from the Monopoly game board and giving drivers free parking for the day.

"We want to do it in a fun way, because Monopoly is supposed to be a fun game," Stafford says. "With some of the things we've done this year, it also looks cool and enhances the consumer visit, so it's something our guests like to share on their social media platforms."