Check it out: The worst kind of drain clogs
A City of Toronto campaign reminds city dwellers of the mess that awaits those who use pipes for personal waste disposal.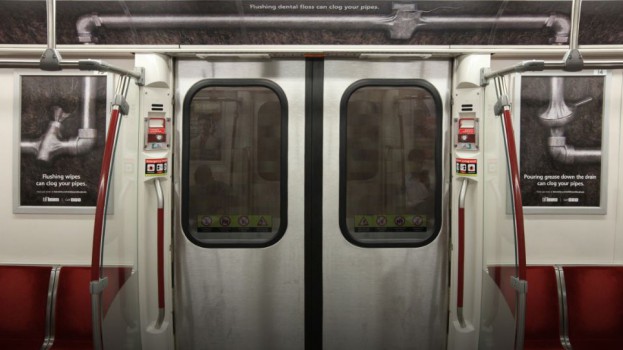 Faced with a greasy pan or dirty baby wipes, it can be tempting to use the toilet or kitchen sink as your personal waste receptacle. But doing so can potentially cause significant damage to plumbing and sewer systems, causing an even greater mess down the road.
In an effort to inform city dwellers about the negative effects of putting the wrong things down the wrong pipes, the City of Toronto recently wrapped up its "Not Down the Drain" campaign, which it launched on Sept. 25. Led by its AOR, Publicis Canada, the campaign included print, pre-roll and online videos posted on Facebook and Instagram, as well as OOH placement on transit shelters and interior subway cards.
The creative shows the hidden damage that can occur to household plumbing and the city's sewer and wastewater treatment systems. The video and print ads follow the path of underground pipes, showing large obstructions along the way, including a container of wipes, a frying pan and dental floss. The ads intend to show that, although these drain-inappropriate items are often out of sight and out of mind, they can nevertheless cause real damage.
The City of Toronto says it currently responds to approximately 500 emergency blocked sewer calls every year, 80% of which are due to fat, oil and grease. It hopes the campaign will reduce that number by encouraging residents to visit its website to learn more about the issue.